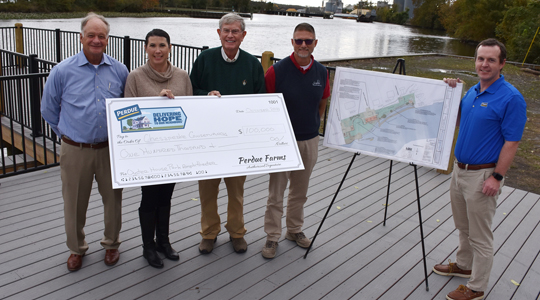 $100,000 Perdue Foundation Grant Helps Fund Outdoor Natural Amphitheater at Seaford's New Oyster House Park in Delaware
Part of Company's Delivering Hope To Our Neighbors®' Initiative
October 27, 2021
SALISBURY, MD. (Wednesday, October 27, 2021) — The Franklin P. and Arthur W. Perdue Foundation, the charitable giving arm of Perdue Farms, has awarded Chesapeake Conservancy, a Maryland-based environmental non-profit, with a donation of $100,000 to help fund construction of an outdoor natural amphitheater at the new Oyster House Park in Seaford, Del. at the site of the old J.B. Robinson Oyster House along the Seaford River Walk on the Nanticoke River.
The Perdue gift is part of the company's "Delivering Hope To Our Neighbors®" initiative focused on improving quality of life and building strong communities.
"We are so grateful to the Perdue Foundation for supporting this vision," said Randall Larrimore, Chesapeake Conservancy board chair. "To construct the Oyster House Park, we partnered with the city and others to provide public access to the Nanticoke River, one of the Chesapeake's most pristine rivers, and worked together to create a beautiful place for the community to gather and recreate. Thanks to the generosity of Perdue, one day we will also enjoy a performance at a new outdoor natural amphitheater. We believe we are helping to build a stronger community and a vibrant downtown."
The outdoor natural amphitheater will be built into the slope of the property accented with native plants. There will be seating for 75 people in the amphitheater and room on the lawn for an additional 200 people. This will also serve as a community outdoor classroom, gathering space for performances and erosion control to address runoff from steep banks. The City plans to remove the impervious road surface and support best management practice implementation to reduce runoff from nearby streets. New turnarounds will allow access to the property and support maximum available open space for pedestrian access.
"At Perdue Farms, we are proud to support the Chesapeake Conservancy and City of Seaford's vision to create a venue that will provide learning opportunities for many students, a performance venue and environmental benefits of natural planting to promote erosion control on the banks of the Nanticoke River," said Kim Nechay, executive director of the Perdue Foundation.
"Perdue has already made a significant investment in Seaford with their AgriBusiness port and grain facility just upriver. It is truly a blessing the Perdue Foundation would also invest in the Oyster House project for the benefit of all people to enjoy and learn about our Nanticoke River and its history," said Seaford Mayor David Genshaw. "This project owes everything to good stewards like Perdue along with the financial commitments from our partners in the Chesapeake Conservancy, State of Delaware, and Sussex County. On behalf of all of Seaford, we say thank you."
The Road to Oyster House Park
In 2018, Chesapeake Conservancy, a nonprofit based in Annapolis, Md., purchased the Oyster House Park property, with the generous support of the Mount Cuba Center, and donated the waterfront parcel to the City of Seaford.
In late February 2020, the Seaford City Council approved a master plan calling for four stages of the park's construction. Construction on this first phase of the new park began in December 2020 and focused on enhancing access to the Nanticoke River along the Captain John Smith Chesapeake National Historic Trail (Chesapeake Trail). This phase expanded the Seaford River Walk and created fishing nooks, a performance deck, boat docking facilities and a kayak launch. A reconstructed bulkhead stabilized the shoreline along with a new living shoreline.
About Chesapeake Conservancy
Chesapeake Conservancy's mission is to conserve and restore the natural and cultural resources of the Chesapeake Bay watershed for the enjoyment, education, and inspiration of this and future generations. We empower the conservation community with access to the latest data and technology. We partnered to help create 194 new public access sites and permanently protect some of the Bay's special places like Werowocomoco, Blackwater National Wildlife Refuge, Harriet Tubman Underground Railroad National Historical Park, and Fort Monroe National Monument. Learn more about the Oyster House Park project here.
About the Franklin P. and Arthur W. Perdue Foundation
The Franklin P. and Arthur W. Perdue Foundation, the charitable giving arm of Perdue Farms, was established in 1957 by company founder Arthur W. Perdue and is funded through the estates of Arthur W. Perdue and Frank Perdue. As part of our belief in supporting the communities where and with whom we do business, the Foundation provides grants on behalf of Perdue Farms in communities where large numbers of our associates live and work. At Perdue Farms, we believe in responsible food and agriculture®.
About Perdue Farms
We're a fourth-generation, family owned, U.S. food and agriculture company. Through our belief in responsible food and agriculture, we are empowering consumers, customers, and farmers through trusted choices in products and services.
The premium protein portfolio within our Perdue Foods business, including our flagship PERDUE® brand, Niman Ranch®, Panorama Organic Grass-Fed Meats®, Coleman Natural®, and Yummy®, as well as our pet brands, Spot Farms® and Full Moon®, is available through various channels including retail, foodservice, club stores, and our direct-to-consumer website, PerdueFarms.com. 
Perdue AgriBusiness is an international agricultural products and services company.  
Now in our company's second century, our path forward is about getting better, not just bigger. We never use drugs for growth promotion in raising poultry and livestock, and we are actively advancing our animal welfare programs. Our brands are leaders in no-antibiotics-ever chicken, turkey, pork, beef and lamb, and in USDA-certified organic chicken and beef. Learn more at Corporate.PerdueFarms.com.