A Dedication to Health & Nutrition
We have options for a variety of consumer and customer needs, from products made with simple ingredients, such as our PERDUE® SIMPLY SMART® Organics line, to gluten-free products that meet the standards of the Gluten-Free Certification Organization.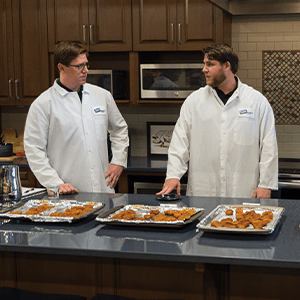 We continue to make our PERDUE® branded products even healthier:
Our low-fat refrigerated products have less fat than comparable breaded, fried boneless chicken products, according to USDA data
Our whole grain breaded line meets USDA Dietary Guidelines for whole grains
We have retail and foodservice products that carry a "Child Nutrition" label, which indicates its contribution toward the USDA's daily Child Nutrition Meal Pattern Requirements
We use only white-meat chicken and no fillers
We continue to strive to lower sodium levels and to meet consumer taste preferences and functional processing requirements
Our COLEMAN NATURAL® and COLEMAN ORGANIC® processed products, including sausages and bacon, contain no added nitrites, nitrates or artificial preservatives. Most of our PERDUE® HARVESTLAND® foodservice items contain no artificial additives, nitrates or nitrites.