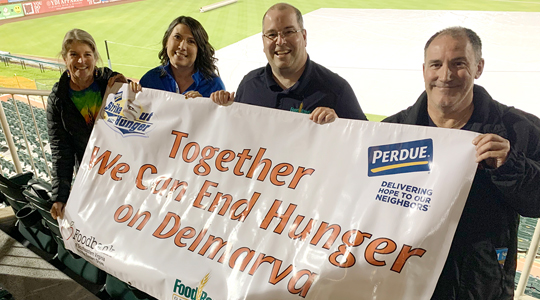 Perdue Farms and Delmarva Shorebirds launch 2021 Perdue Strike Out Hunger Challenge on Delmarva
May 18, 2021
SALISBURY, Md. (Tuesday, May 18, 2021) — For one in six people in the United States, hunger is a very real struggle, and especially more so amid the pandemic. At Perdue Farms, we believe that in a country as rich in resources as ours, no one should have to go hungry.
That's why, building upon a company commitment to fighting hunger in our communities, Perdue Farms and the Delmarva Shorebirds announce the launch of the "2021 Perdue Strike Out Hunger Challenge on Delmarva" in partnership with the three Delmarva food banks. The Shorebirds are the Class A affiliate of the Baltimore Orioles.
The Perdue Strike Out Hunger Challenge on Delmarva aligns with the company's "Delivering Hope To Our Neighbors®" initiative focused on providing access to nutritious protein for people struggling with hunger and making meaningful progress toward ending hunger.
"We're thrilled that baseball has returned to Delmarva this year following its absence amid the pandemic in 2020, and that we can relaunch a years-long partnership with the Shorebirds to help those struggling with increased food insecurity," said Kim Nechay, executive director of the Franklin P. and Arthur W. Perdue Foundation.
To jumpstart the season-long Perdue Strike Out Hunger Challenge on Delmarva, the Perdue Foundation — the charitable giving arm of Perdue Farms — has issued a $15,000 challenge grant to benefit the Eastern Shore Branch of the Maryland Food Bank, the Food Bank of Delaware and the Foodbank of Southeastern Virginia and the Eastern Shore.
How the Strike Out Hunger Challenge Works
The first $10,000 of the Foundation's challenge grant will be divided equally among the three Delmarva food banks as a challenge to involve the Delmarva community in the regional fight against hunger. Each food bank must raise the equivalent of 10,000 meals in order to claim their share of the $10,000 challenge grant. Any combination of pounds of food collected, funds collected and donated, or volunteer efforts from the Shorebirds' May 4 home game through the final regular season home game on Sept. 12, will count toward each food bank's challenge goal. Perdue has also committed to donating $10 for each time Shorebirds' pitchers strike out an opposing batter (up to $5,000), which will be split equally between the three Delmarva food banks.

The Shorebirds have designated the season's 10 Sunday home games as "Strike Out Hunger Sundays." To stay within COVID guidelines, the Shorebirds have changed up the Sunday offer since last year; for every purchase of an upper reserved ticket online using the promo code PERDUESOH2021, the Shorebirds will donate $5 to the local area food banks.

A Sustained Partnership in The Fight Against Hunger
The 2021 Perdue Strike Out Hunger Challenge on Delmarva provides the forum to continue the awareness and community engagement that began with Perdue's sponsorship of the 2011 South Atlantic League "Perdue Strike Out Hunger All-Star Game" promotions. Since then, the Shorebirds and participating food banks have embraced the Strike Out Hunger Challenge On Delmarva, generating more than 1.1 million meals for those in need locally.

"Food insecurity was a formidable issue before the COVID-19 pandemic, but today, we estimate that roughly 2.5 million Marylanders in our state are food insecure, unsure of where their next meal will come from," said Jennifer Small, senior regional program director for the Eastern Shore branch of the Maryland Food Bank. "We know the pandemic will impact the lives of families, individuals, seniors, and children for months and even years to come. The Maryland Food Bank Eastern Shore is thankful for the continued support of Perdue Farms and the Delmarva Shorebirds to help us to 'deliver hope to our neighbors' so that no Marylander goes to bed hungry."
"The Shorebirds understand that during these challenging times it is important continue to support our community. And working with Perdue to provide meals for those in need is always an initiative we look forward to each year," said Jimmy Sweet, assistant general manager of the Shorebirds.
If you, or your organization, would like to get involved in the 2021 Perdue Strike Out Hunger Challenge on Delmarva, contact the Shorebirds at 410-219-3112 or one of the three participating food banks: Maryland (410) 742-0050, Delaware (302) 424-3301 or Virginia (757) 787-2557.
About Perdue Farms
We're a fourth-generation, family owned, U.S. food and agriculture company. Through our belief in responsible food and agriculture, we are empowering consumers, customers, and farmers through trusted choices in products and services.
The premium protein portfolio within our Perdue Foods business, including our flagship PERDUE® brand, Niman Ranch®, Panorama Organic Grass-Fed Meats®, and Coleman Natural®, as well as our pet brands, Spot Farms and Full Moon, is available through retail, foodservice, and our direct-to-consumer website, PerdueFarms.com. 
Perdue AgriBusiness is an international agricultural products and services company.  
Now in our company's second century, our path forward is about getting better, not just bigger. We never use drugs for growth promotion in raising poultry and livestock, and we are actively advancing our animal welfare programs. Our brands are leaders in no-antibiotics-ever chicken, turkey, pork, beef and lamb, and in USDA-certified organic chicken and beef. Learn more at Corporate.PerdueFarms.com.