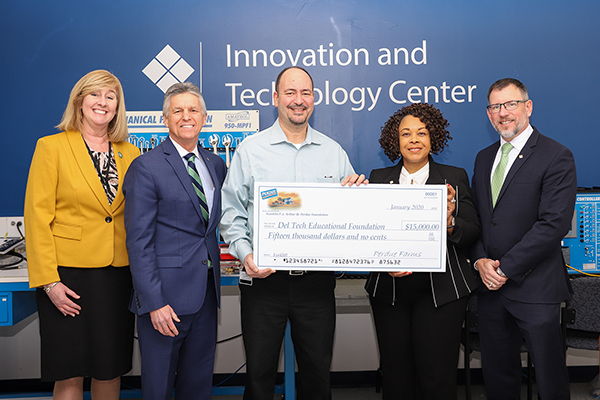 $15,000 Perdue Foundation Grant Supports Forklift Education at Delaware Tech
Program gives high school students training, certification
January 29, 2020
Salisbury, Md. (Wednesday, January 29, 2020) — Perdue Farms has awarded a $15,000 grant from the Franklin P. and Arthur W. Perdue Foundation to Delaware Technical Community College's workforce development program.
The money will used to buy a forklift for students interested in earning a forklift/operations/safety certification, including those in the high school manufacturing program.
"Thanks to the Perdue Foundation, we can address unmet needs of our manufacturing program to better equip the workforce of tomorrow. We can also fill a workforce need with people who are certified to operate forklifts," said Mark Brainard, president of Delaware Tech.
The manufacturing careers program provides juniors and seniors with skills and certification to begin a career right after graduation in manufacturing quality, logistics, material handling, safety, machinery and equipment.
"We know first-hand at Perdue Farms about the shortage of skilled employees in manufacturing," said Kim Nechay, executive director of the Perdue Foundation. "We're proud to support schools like Delaware Tech that provide young people training and education that helps them take advantage of job opportunities."
About Delaware Technical Community College
Students are at the "Center of Everything We Do" at Delaware Technical Community College. Students change their lives through comprehensive educational opportunities and support services. As the state's only community college, Delaware Tech provides quality education that is accessible, relevant and responsive to market and community needs while contributing to Delaware's economy. Learn more at www.dtcc.edu.
About the Franklin P. and Arthur W. Perdue Foundation
The Franklin P. and Arthur W. Perdue Foundation, the charitable giving arm of Perdue Farms, was established in 1957 by company founder Arthur W. Perdue and is funded through the estates of Arthur W. Perdue and Frank Perdue. As part of our belief in supporting the communities where and with whom we do business, the Foundation provides grants on behalf of Perdue Farms in communities where large numbers of our associates live and work. At Perdue Farms, we believe in responsible food and agriculture®.
About Perdue Farms
We're a fourth-generation, family owned, U.S. food and agriculture company. Through our belief in responsible food and agriculture, we are empowering consumers, customers and farmers through trusted choices in products and services.
The PERDUE® brand is the number-one brand of fresh chicken in the U.S., and the company is the leader in organic chicken in the U.S., and Perdue AgriBusiness is an international agricultural products and services company. Now in our centennial year, our path forward is about getting better, not just bigger. We never use drugs for growth promotion in raising poultry and livestock, and we are actively advancing our animal welfare programs. Our brands are leaders in no-antibiotics-ever chicken, turkey and pork, and in USDA-certified organic chicken. Learn more at corporate.perdufarms.com.