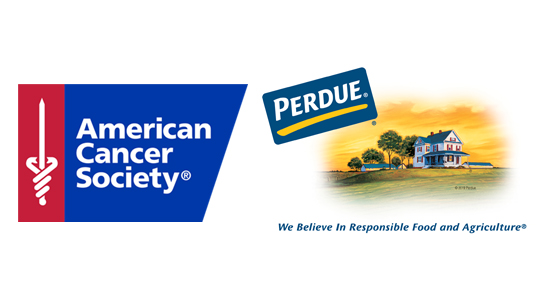 Perdue Farms Lewiston, N.C. Operations Team Earns American Cancer Society 'Hero of Research Award'
Award Funds Research Grant at UNC Lineberger Comprehensive Cancer Center
March 9, 2021
Salisbury, Md. (Tuesday, March 9, 2021) — Associates at the Perdue Farms operation in rural Lewiston, N.C., have earned the "Hero of Research Award" from the American Cancer Society in recognition of their support for Relay For Life in 2020. The Perdue team raised more than $165,000 – the fifth largest total in the country – for the Relay For Life of Bertie County. By reaching the $165,000 fund-raising level for the first time, the Perdue Lewiston plant was one of three companies nationally to achieve Hero of Research status.
Since 1995, Perdue associates have raised more than $1.7 million in support of the Relay For Life of Bertie County, primarily through payroll deduction and local fundraising activities.
"We are so grateful to everyone at Perdue Farms Lewiston plant for their tremendous support," said Gary Reedy, CEO of the American Cancer Society. "2020 was one of the most challenging years in our history. It prompted all of us to innovate and find new ways to serve our patients and connect with our communities. Throughout these changes, Perdue's support enabled us to continue serving cancer patients during the pandemic."
The Hero of Research Award allows Perdue to fund a three-year breast cancer research project conducted by Dr. Michael Lewis at the University of North Carolina Lineberger Comprehensive Cancer Center. Dr. Lewis's research will study how enhancer RNA molecules can be utilized to treat triple-negative breast cancer, the most aggressive form of breast cancer. "This study will explain the activity of enhancer RNA, creating new opportunities for therapeutic intervention that may extend to other forms of cancer," said Dr. Lewis. "I cannot thank Perdue Lewiston associates enough for supporting this life-saving work."
Perdue associate James Cherry knows firsthand the devastating effects of breast cancer. He suffered the loss of his oldest sister Mary Ellen Cherry to brain cancer in 2001. "It was at that time that I became a supporter of the American Cancer Society, enrolling in payroll deduction at Perdue," Cherry said. "I'm so proud of our associates for their commitment to the community and making a difference in the lives of so many Americans."
"We were thrilled to learn that because of our associates' continued generous support of Relay For Life, we are able to support ground-breaking research funded by the American Cancer Society," said Frank Koekkoek, director of Perdue operations in Lewiston. "Our associates have a long-history of supporting the Relay For Life of Bertie County. Cancer touches just about every one of us in some way, and this research is especially meaningful to our team and our neighbors in the community."
The American Cancer Society, in its 2021 Cancer Facts & Figures Report, estimates 3.2 million cancer deaths have been averted from 1991 through 2018 due to reductions in smoking, earlier detection and improvements in treatment, which are reflected in long-term declines in mortality for the four leading cancers: lung, breast, colorectal and prostate. The report estimates that 1,898,160 new cancer cases will be diagnosed in the U.S. this year, and 608,570 Americans will die from cancer. These projections do not account for the impact of the COVID-19 pandemic on cancer diagnoses or deaths.
About Perdue Farms
We're a fourth-generation, family owned, U.S. food and agriculture company. Through our belief in responsible food and agriculture, we are empowering consumers, customers, and farmers through trusted choices in products and services.
The premium protein portfolio within our Perdue Foods business, including our flagship PERDUE® brand, Niman Ranch®, Panorama Organic Grass-Fed Meats®, and Coleman Natural®, as well as our pet brands, Spot Farms and Full Moon, is available through retail, foodservice, and our direct-to-consumer website, PerdueFarms.com. 

Perdue AgriBusiness is an international agricultural products and services company. 
Now in our company's second century, our path forward is about getting better, not just bigger. We never use drugs for growth promotion in raising poultry and livestock, and we are actively advancing our animal welfare programs. Our brands are leaders in no-antibiotics-ever chicken, turkey, pork, beef and lamb, and in USDA-certified organic chicken and beef. Learn more at Corporate.PerdueFarms.com.
About American Cancer Society
The American Cancer Society is a global grassroots force of 1.5 million volunteers dedicated to saving lives, celebrating lives, and leading the fight for a world without cancer. From breakthrough research, to free lodging near treatment, a 24/7/365 live helpline, free rides to treatment, and convening powerful activists to create awareness and impact, the Society is the only organization attacking cancer from every angle. Without the American Cancer Society's nearly 75 years of investments in research, patients wouldn't have as many treatment strategies, screening tools and preventative measures. As the largest private not-for-profit, non-governmental funder of cancer research in the U.S., we've played a role in many of the major cancer research breakthroughs in the last century. 
Relay For Life is a movement, a community of like-minded survivors, caregivers, volunteers and participants who believe that the future can be free from cancer. Because of the COVID-19 pandemic, our community is currently connecting in different ways. While our fundraising might look different right now, our passion to save lives, celebrate lives, and lead the fight for a world without cancer is unchanged. For more information go to www.cancer.org.