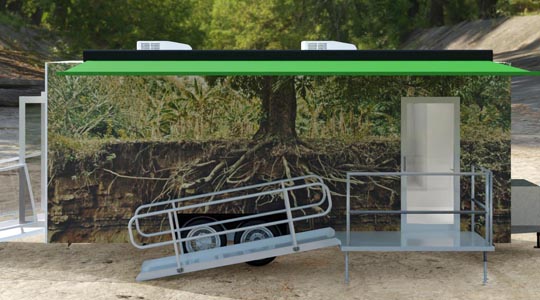 Perdue Farms Supports Wilkes Soil & Water Conservation District in North Carolina
Perdue Foundation's $50,000 grant helps with Mobile Soils Classroom
April 26, 2022
Salisbury, Md. (Tuesday, April 26, 2022) — As part of a commitment to education and environmental stewardship, Perdue Farms has awarded the Wilkes Soil & Water Conservation District a $50,000 Franklin P. and Arthur W. Perdue Foundation grant to support its Mobile Soils Classroom program in Wilksboro, N.C. The donation from Perdue's charitable giving arm is part of the company's Delivering Hope to Our Neighbors® initiative focused on improving quality of life and building strong communities.
Wilkes County Soil & Water Conservation District (Wilkes SWCD) aims to educate students and staff about soil, water and other natural resources.  SWCD currently reaches 15,800 students and 500 teachers per academic year.
The funds will support a 24-foot enclosed Mobile Soils Classroom that will offers students and teachers an interactive, walk-through learning experience related to soil and its role in the ecosystem and their lives, said Rob Baldwin, Wilkes SWCD director.
"Soil makes our lives possible. We build, play, drive, and eat food grown or raised on soils," he said. "However, 90 percent of students and even educators refer to soil as dirt, not knowing its importance and the crucial role it plays in their lives." 
Wilkes SWCD uses education to stress the importance of natural resources and offers technical and financial assistance to best conserve these resources.
"Within one year, the mobile classroom will be used at six regional education events and will be available to the additional 95 conservation districts in North Carolina to use," Baldwin said.
Kim Nechay, executive director of the Perdue Foundation, praised the district for its innovative teaching.
"There is no better way to educate children than with hands-on, experiential learning. This van will help the Wilkes Soil and Water Conservation District do just that," she said. "The fun educational programming will provide so many opportunities to learn. We are proud to be able to help make it happen."
About the Franklin P. and Arthur W. Perdue Foundation
The Franklin P. and Arthur W. Perdue Foundation, the charitable giving arm of Perdue Farms, was established in 1957 by company founder Arthur W. Perdue and is funded through the estates of Arthur W. Perdue and Frank Perdue. As part of our belief in supporting the communities where and with whom we do business, the Foundation provides grants on behalf of Perdue Farms in communities where large numbers of our associates live and work. At Perdue Farms, we believe in responsible food and agriculture®.
About Perdue Farms
We're a fourth-generation, family-owned, U.S. food and agriculture company. Through our belief in responsible food and agriculture, we are empowering consumers, customers and farmers through trusted choices in products and services.
The premium protein portfolio within our Perdue Foods business, including our flagship PERDUE® brand, Niman Ranch®, Panorama Organic Grass-Fed Meats®, Coleman Natural®, and Yummy®, as well as our pet brands, Spot Farms® and Full Moon®, is available through various channels including retail, foodservice, club stores and our direct-to-consumer website, PerdueFarms.com. 
Perdue AgriBusiness is an international agricultural products and services company.  
Now in our company's second century, our path forward is about getting better, not just bigger. We never use drugs for growth promotion in raising poultry and livestock, and we are actively advancing our animal welfare programs. Our brands are leaders in no-antibiotics-ever chicken, turkey, pork, beef and lamb, and in USDA-certified organic chicken and beef. Learn more at Corporate.PerdueFarms.com.