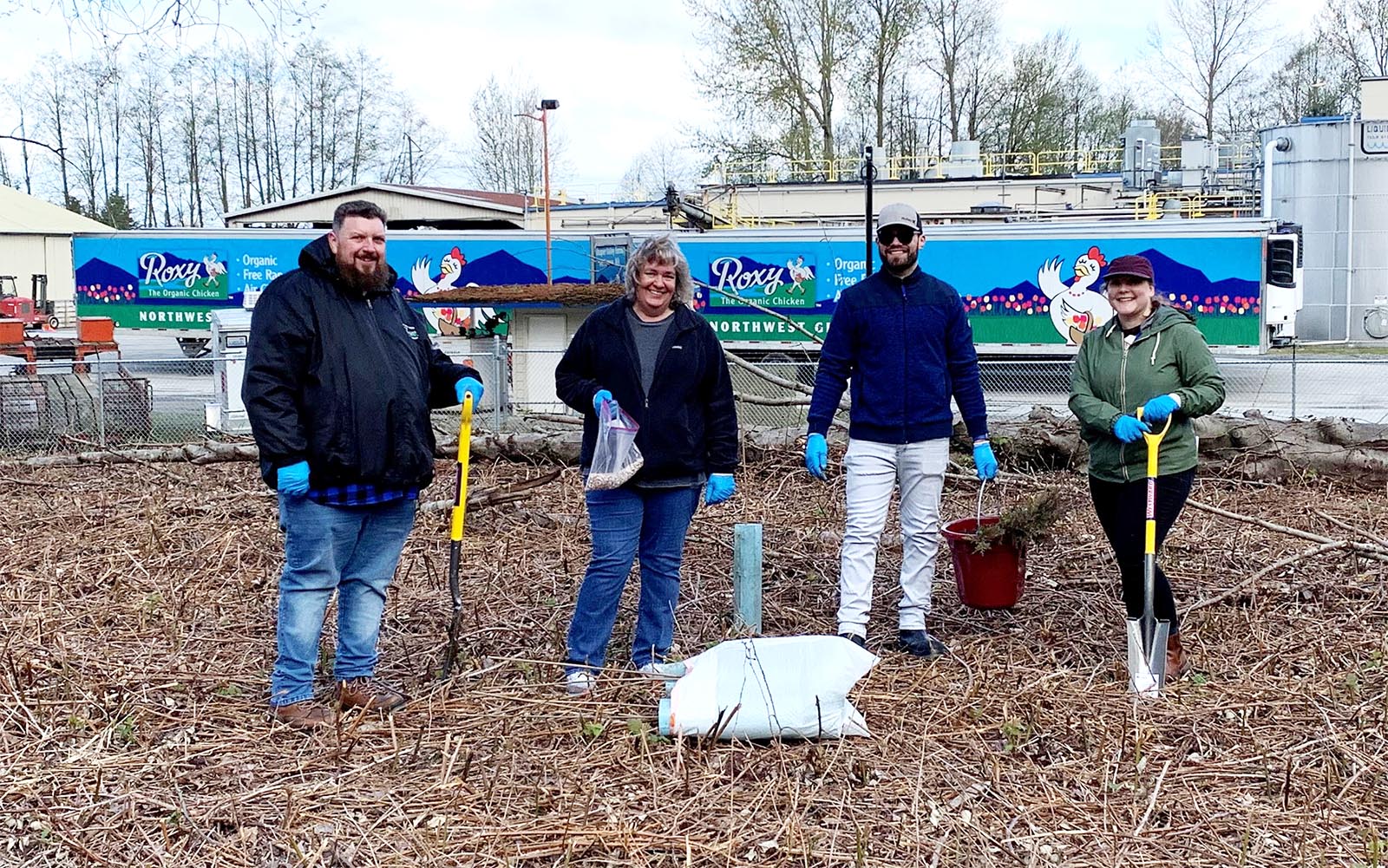 Perdue Farms Associates Join Mount Vernon, Wash., to Plant 200 Western Red Cedar Trees in Environmental Initiative
April 15, 2022
SALISBURY, Md. (Friday, April 15, 2022) — As part of its commitment to environmental sustainability, Perdue Farms associates and family members recently joined the City of Mount Vernon, Wash., and other volunteers to plant approximately 200 native Western Red Cedar seedlings on the company's property bordering Kulshan Stream.
The collaborative partnership is part of Perdue Farms' environmental sustainability work with Project Clean Stream, which focuses on protecting and enhancing the environment in the communities where the company conducts business and its associate live and work. It also aligns with the company's "Delivering Hope To Our Neighbors® initiative to improve quality of life and build strong communities. Perdue Farms' operation in Mount Vernon is home its local brands DRAPER VALLEY FARMS® No Antibiotics Ever Chicken, ROXY® The Organic Chicken and RANGER® The Free-Range Chicken.
"We appreciate the efforts put forth by Perdue Farms to restore a critical environmental area in our city," Mayor Jill Boudreau said. "And we're grateful for the opportunity this provides for our residents to volunteer in these efforts to improve this land along the Kulshan Trail."
Project Clean Stream was launched in 2004 by the Alliance for the Chesapeake Bay in Maryland as a grass-roots effort to clean up waterways and shorelines in the Chesapeake Bay watershed. Perdue joined the volunteer project in 2008 with 30 volunteers and adopted the Project Clean Stream concept across the company's footprint to encourage associates to engage in similar clean-up efforts in their communities. Since 2008, Perdue associates have removed more than 500,000 pounds of trash and debris from local streams, waterways, parks and planted trees in their communities, including many within the environmentally sensitive Chesapeake Bay watershed.
"At Perdue Farms, we believe in being responsible stewards of our natural resources," said Drew Getty, vice president of environmental sustainability and government relations. "Our associates' participation says a lot about their willingness to give back and our commitment to protecting and enhancing the environment."
About Perdue Farms
We're a fourth-generation, family-owned, U.S. food and agriculture company.Through our belief in responsible food and agriculture, we are empowering consumers, customers, and farmers through trusted choices in products and services.
The premium protein portfolio within our Perdue Foods business, including our flagship PERDUE® brand, Niman Ranch®, Panorama Organic Grass-Fed Meats®, Coleman Natural®, and Yummy®, as well as our pet brands, Spot Farms® and Full Moon®, is available through various channels including retail, foodservice, club stores, and our direct-to-consumer website, PerdueFarms.com. 
Perdue AgriBusiness is an international agricultural products and services company.  
Now in our company's second century, our path forward is about getting better, not just bigger. We never use drugs for growth promotion in raising poultry and livestock, and we are actively advancing our animal welfare programs. Our brands are leaders in no-antibiotics-ever chicken, turkey, pork, beef and lamb, and in USDA-certified organic chicken and beef. Learn more at Corporate.PerdueFarms.com.