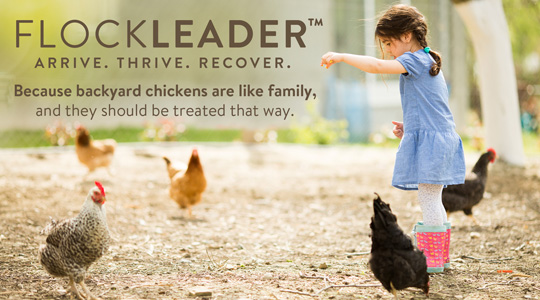 Perdue AgriBusiness Launches FlockLeader™ to Keep Backyard Chickens Healthy
Based on the company's expertise in chicken welfare, nutrition and behavior, Perdue AgriBusiness is offering FlockLeader™ by Perdue, a line of probiotics and supplements for backyard chickens
September 28, 2021
Salisbury, Md. (Tuesday, September 28, 2021) – Perdue AgriBusiness, a subsidiary of Perdue Farms, the fourth largest poultry producer in the United States, today announced the launch of FlockLeader™, a new line of probiotics and supplements designed for backyard chickens. FlockLeader™ by Perdue is the first direct-to-consumer product offered by Perdue AgriBusiness.
Perdue Farms was started by Pearl and Arthur Perdue as a table-egg business and has been committed to raising healthy chickens for more than 100 years. Now, the company is sharing its expertise in chicken nutrition and welfare with backyard chicken keepers everywhere.
"At Perdue, our roots are on the family farm and our commitment to caring for backyard chicken flocks goes back more than a century," said George Betton, vice president of specialty agricultural products. "The launch of the FlockLeader™ line of probiotics and supplements reflects our leadership in animal nutrition and welfare, and marks the first direct-to-consumer product from Perdue AgriBusiness."
FlockLeader™ by Perdue includes several products that will promote chicken health, including Arrive™, a daily supplement to give newly hatched chickens and young birds a healthy start; Thrive™, a daily supplement that helps maintain a healthy flock; and Recover™, a water supplement to support mild stress. These three main products – Arrive™, Thrive™ and Recover™ – can provide backyard chicken keepers with a trustworthy daily supplement or troubleshoot health concerns that may arise in flocks.
"We understand that people raising backyard chickens want help and support raising a healthy flock at all times – not just when chickens are stressed and sick," said Betton. "We're proud to provide this support through FlockLeader™ to families that are raising backyard chickens."
Flockleader™ can be purchased online through backyardchicken.com, a dedicated educational website created by Perdue AgriBusiness that also offers expert resources about chicken behavior for backyard flock enthusiasts. FlockLeader™ can also be purchased at Thiesen's Home Farm & Auto locations in Illinois, Iowa and Wisconsin. It will soon be available for purchase at other retailers nationwide.
About Perdue AgriBusiness
Perdue AgriBusiness is subsidiary of Perdue Farms Inc. Ranked among the largest grain companies in the U.S., Perdue AgriBusiness is a leading merchandiser, processor and exporter of agricultural products. Through Perdue AgriBusiness' 75 elevator locations with more than 75 million bushels of storage, deep-water port, transload facilities, oilseed crushing operations, edible oil refinery, and protein blend mills, the company serves markets across the United States and around the world.  Visit www.perdueagribusiness.com for more information.
About Perdue Farms
We're a fourth-generation, family owned, U.S. food and agriculture company. Through our belief in responsible food and agriculture, we are empowering consumers, customers, and farmers through trusted choices in products and services.
The premium protein portfolio within our Perdue Foods business, including our flagship PERDUE® brand, Niman Ranch®, Panorama Grass Fed Beef®, and Coleman Natural®, as well as our pet brands, Spot Farms and Full Moon, is available through retail, foodservice, and our new direct-to-consumer website, PerdueFarms.com. 
Perdue AgriBusiness is an international agricultural products and services company. 
Now in our company's second century, our path forward is about getting better, not just bigger. We never use drugs for growth promotion in raising poultry and livestock, and we are actively advancing our animal welfare programs. Our brands are leaders in no-antibiotics-ever chicken, turkey, pork, beef and lamb, and in USDA-certified organic chicken and beef. Learn more at corporate.perduefarms.com.