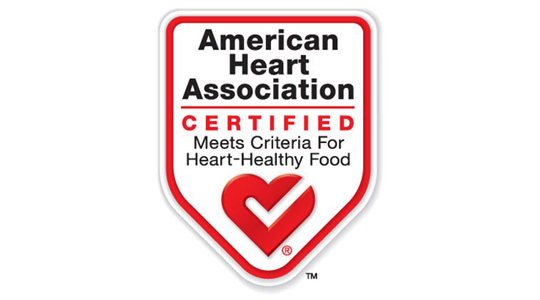 Perdue AgriBusiness Plenish® brand high-oleic soybean oil now certified by the American Heart Association Heart-Check food certification program
March 10, 2021
Salisbury, Md. (Wednesday, March 10, 2021) — Perdue AgriBusiness's Plenish® brand high-oleic soybean oil has received American Heart Association's Heart-Check certification mark. The iconic Heart-Check mark helps take the guesswork out when reading nutrition facts and label information.
The high-oleic soybean oil is made from Plenish® soybeans grown by farmers under contract with Perdue AgriBusiness. Perdue sells its high-oleic soybean oil in bulk to meet customer specifications for a variety of today's food processing applications.
"We're proud that Perdue's high-oleic soybean oil has recieved Heart-Check certification from the American Heart Association," said Perry Aulie, Senior Vice President of Value-Added Products for Perdue AgriBusiness. "More and more companies are seeking high-oleic products and we remain committed to being a leader in meeting the demand."
The iconic red Heart-Check mark gives consumers peace of mind that what they are consuming meets the nutritional requirements of the American Heart Association.
Third-generation Maryland farmer Travis Hutchison is a grain farmer for Perdue AgriBusiness, an independent operating company of Perdue Farms, and is now one of 678 farmers in the United States who cultivates what ultimately becomes high-oleic soybean oil used by major food brands to create healthier foods for all Americans.
"I really like being part of something new and something that helps people enjoy a healthier oil," said Hutchison, who grows soybeans on 1,600 acres in Cordova, Md.
Hutchison, who sampled the oil on several occasions, said it tastes lighter and more flavorful. "For me, the oil enhanced the flavor of the food that we cooked," he said.
Food manufacturers agree. Demand is increasing from leading snack food makers due to the oil's zero trans fats and high heart-healthy monounsaturated fats; higher heat stability and high smoke point; clean, light flavor; and extended shelf life for packaged foods without artificial preservatives.
Demand for high-oleic soybean oil also allows farmers to receive a premium for growing high-oleic soybeans, helping increase their on-farm profitability. Farmers can receive up to $.75 per bushel more than conventional soybeans. To date, Perdue has paid out more than $10 million in Plenish® premiums.
"When everything else (grain prices) was down, it really helped out to continue to grow the soybeans for the oil," said Hutchison.
Perdue AgriBusiness has contracted with East Coast farmers for seven years to raise Pioneer® brand Plenish® high-oleic soybeans, which are delivered to one of 16 local elevators and ultimately processed into oil at Perdue's Salisbury, Md., edible oil refinery.
In 2021, Perdue is looking to increase high-oleic acreage by 50 percent. Farmers interested in learning more should contact April Cheesman at 410-543-3423 or April.Cheesman@perdue.com.
About the Heart-Check Mark
The American Heart Association established the Heart-Check mark in 1995 to give consumers an easy, reliable system for identifying heart-healthy foods as a first step in building a sensible eating plan. Products that display the Heart-Check mark have been certified by the American Heart Association to meet criteria for heart-healthy foods. To learn more about the Heart-Check mark, to see a complete list of certified products and participating companies, and to learn more about the nutritional criteria, visit www.heartcheck.org.
About Perdue Agribusiness
Perdue AgriBusiness is an independent operating company of Perdue Farms Inc. Ranked among the largest grain companies in the U.S., Perdue AgriBusiness is a leading merchandiser, processor and exporter of agricultural products. Through Perdue AgriBusiness' 75 elevator locations with more than 75 million bushels of storage, deep-water port, transload facilities, oilseed crushing operations, edible oil refinery, and protein blend mills, the company serves markets across the United States and around the world. Visit www.perdueagribusiness.com for more information.
About Perdue Farms
We're a fourth-generation, family owned, U.S. food and agriculture company. Through our belief in responsible food and agriculture, we are empowering consumers, customers, and farmers through trusted choices in products and services.
The premium protein portfolio within our Perdue Foods business, including our flagship PERDUE® brand, Niman Ranch®, Panorama Organic Grass-Fed Meats®, and Coleman Natural®, as well as our pet brands, Spot Farms and Full Moon, is available through retail, foodservice, and our direct-to-consumer website, PerdueFarms.com. 

Perdue AgriBusiness is an international agricultural products and services company. 
Now in our company's second century, our path forward is about getting better, not just bigger. We never use drugs for growth promotion in raising poultry and livestock, and we are actively advancing our animal welfare programs. Our brands are leaders in no-antibiotics-ever chicken, turkey, pork, beef and lamb, and in USDA-certified organic chicken and beef. Learn more at Corporate.PerdueFarms.com.