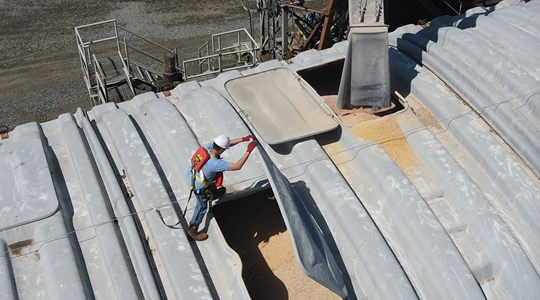 Perdue AgriBusiness Associates Achieve Safety Milestone
May 17, 2022
Salisbury, Md. (Tuesday, May 17, 2022) — Associates at Perdue AgriBusiness, an operating division of Perdue Farms, achieved a safety milestone by completing their fiscal year (April 2021-March 2022) without experiencing an Occupational Safety and Health Administration recordable lost-time case and achieved 1.7 million consecutive lost-time free work hours in doing so.
"It's our associates' daily focus on workplace safety that makes this kind of milestone possible," said Scott Fredericksen, president of Perdue AgriBusiness. "It also reflects a company commitment to involve our associates in creating a safe and productive work environment. Many of our locations are remote, such as grain elevators with a dozen or so associates, so safety is part of our culture that carries down to each individual associate."
Perdue AgriBusiness associates work across 13 states, including grain receiving and storage, feed-ingredient blending, soy crushing, oilseed processing and refining facilities, in operations, maintenance and administration positions.
Perdue Farms has a standard, companywide safety program that encourages active associate participation and input. Associates participate in ongoing safety awareness training and are encouraged to identify and report all potential hazards as well as perform safety inspections before facility startup.
Perdue Farms A Leader In Workplace Safety
Perdue Farms is a leader in workplace safety among all industries nationwide combined. According to statistics released by the U.S. Labor Department's Bureau of Labor Statistics, during their most recently reported year in 2020, the lost-time rate for all goods-producing industries combined was 2.50 per 100 workers annually, while Perdue Farms' companywide rate during that period was 0.308 per 100 associates. As of April 2022, Perdue Farms' lost-time rate was 0.167 per 100 associates.
About Perdue AgriBusiness
Perdue AgriBusiness is an independent operating company of Perdue Farms Inc. Ranked among the largest grain companies in the U.S., Perdue AgriBusiness is a leading merchandiser, processor and exporter of agricultural products. Through Perdue AgriBusiness elevator locations with millions of bushels of storage, deep-water port, transload facilities, oilseed crushing operations, edible oil refinery, and protein blend mills, the company serves markets across the United States and around the world. Visit www.perdueagribusiness.com for more information.
About Perdue Farms
We're a fourth-generation, family-owned, U.S. food and agriculture company. Through our belief in responsible food and agriculture, we are empowering consumers, customers, and farmers through trusted choices in products and services.
The premium protein portfolio within our Perdue Foods business, including our flagship PERDUE® brand, Niman Ranch®, Panorama Organic Grass-Fed Meats®, Coleman Natural®, and Yummy®, as well as our pet brands, Spot Farms® and Full Moon®, is available through various channels including retail, foodservice, club stores, and our direct-to-consumer website, PerdueFarms.com. 
Perdue AgriBusiness is an international agricultural products and services company.  
Now in our company's second century, our path forward is about getting better, not just bigger. We never use drugs for growth promotion in raising poultry and livestock, and we are actively advancing our animal welfare programs. Our brands are leaders in no-antibiotics-ever chicken, turkey, pork, beef and lamb, and in USDA-certified organic chicken and beef. Learn more at Corporate.PerdueFarms.com.