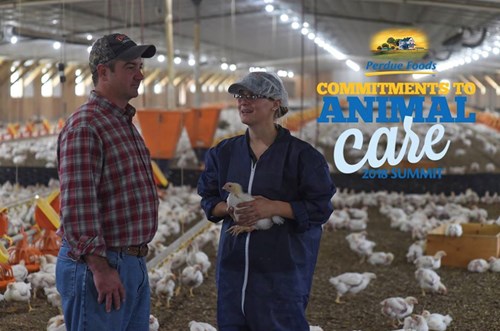 What a Chicken Wants: Windows, Wing Space, Outdoor Living and More
Perdue Farms Goes Beyond the Status Quo and Leads the Way to Enhance Animal Welfare Standards
July 11, 2018
Salisbury, Md. (Wednesday, July 11, 2018) – For the third consecutive year, Perdue Farms continues its collaborative and transparent journey to change the way it raises chickens, addressing growing public concerns over broiler chicken welfare. On July 11 and 12, Perdue will bring together animal care experts, representatives of animal welfare advocacy groups such as the Humane Society of the United States and Compassion in World Farming; animal care researchers; leading retail and foodservice customers such as Blue Apron and Wegmans; and Perdue farmers at the third Annual Perdue Animal Care Summit to share updates on the company's advancements in animal care and garner feedback from the groups. The event coincides with the release of the 2018 Perdue Commitments to Animal Care report.
In 2016, Perdue introduced the groundbreaking "Commitments to Animal Care" program, challenging the status quo on how the majority of chickens are raised in the US. The announcement was precedent-setting not only because a major poultry company was making significant changes to its welfare practices, but because Perdue was collaborating with animal welfare advocacy groups.
2018 Commitments
The 2018 Perdue Commitments to Animal Care Report continues that progress with several key initiatives, including:
Committing to

 

adding windows to 100 percent of chicken houses

, after

 

Perdue's research

 

demonstrated that chickens benefit from natural light

Identifying alternative breeds

 

that meet the demand for customers who want higher welfare chickens

Recommitting to better relationships with the farmers who raise its chickens; incentives that reward welfare outcomes and not just productivity; and a

 

farmers- only website, including a Farmer Relationship Index score

Moving to

 

higher-welfare, controlled atmosphere stunning

 

and a first-in-the- US system to

 

reduce stress and improve bird comfort

 

during catching, transport and at the harvest plant.

Increasing transparency by publishing

 

audit results and reporting on animal care incidents.
"We also promised increased transparency and building trust with stakeholders, which is why we continue to host our Animal Care Summit," said Chairman Jim Perdue. "The input from these partners at the Summit will help Perdue continue to identify and implement changes that have a quantifiable impact on welfare improvements for its chickens."
What Our Advocate Partners Say
Those efforts continue to earn recognition from animal welfare advocates. "We are heartened that Perdue keeps making measurable, meaningful progress to improve the lives of chickens," said Leah Garces, USA Director for Compassion in World Farming. "Perdue keeps rising to the challenge of making better-welfare chicken available to any customer."
That progress helped Perdue rank among the top 15% of companies in the global 2017 Business Benchmark on Farm Animal Welfare. 

"Perdue is reflecting consumer sentiment that all animals—including farm animals— should be protected from pain by their work to address these issues in a meaningful, transparent and collaborative way," said Josh Balk, vice president of farm animal protection at the Humane Society of the United States.
"We moved beyond the basics of food, water, shelter and protection from disease to consider not only what chickens need, but what they want," said Perdue. The company is basing its changes on "The Five Freedoms," a globally accepted standard for animal welfare. "Since 2016, we've seen more companies talking about the Five Freedoms - but embracing the Five Freedoms takes more than talk, it takes change," said Perdue.
What Our Farmers Say
"I have been growing chickens for 41 years and have always been supportive of the changes Perdue has initiated," said Delaware farmer Alvin Warner. "It has provided a good life for my family and I am proud that Perdue is taking the lead in animal care."
About Perdue Farms 
We're a fourth-generation, family-owned, U.S. food and agriculture company. Through our belief in responsible food and agriculture, we are empowering consumers, customers and farmers through trusted choices in products and services.
The PERDUE® brand is the number-one brand of fresh chicken in the U.S., and the company is the leader in organic chicken in the U.S. Perdue AgriBusiness is an international agricultural products and services company. We are actively advancing our animal welfare programs, and as we approach our 100th anniversary in 2020, our path forward is about getting better, not just bigger. Our brands are leaders in no-antibiotics- ever chicken, turkey and pork, and in USDA-certified organic chicken. Learn more at www.perduefarms.com.