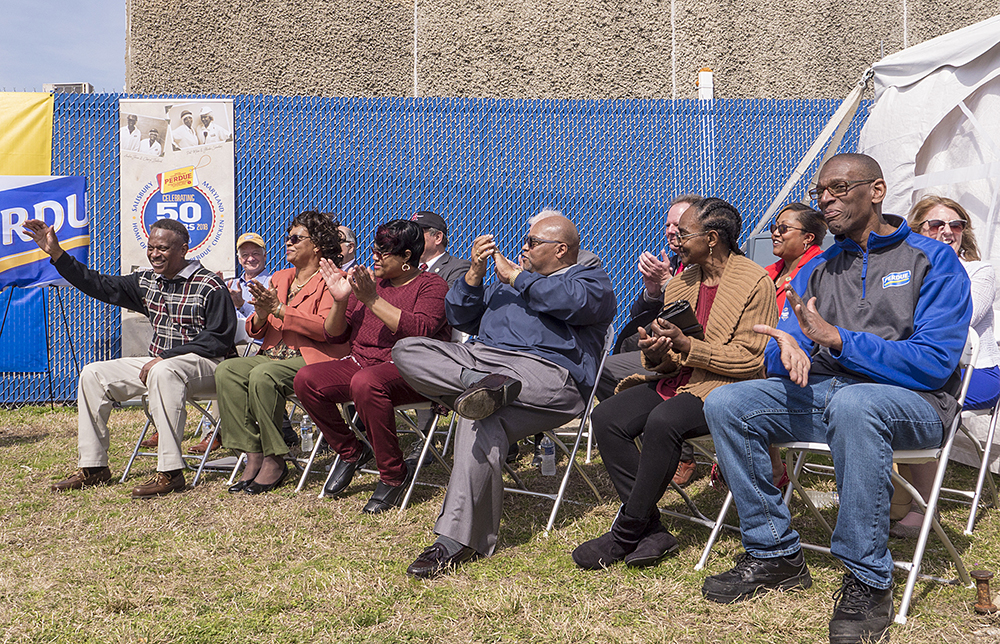 Perdue Farms Commemorates 50th Anniversary of PERDUE® Branded Chicken
April 13, 2018
Salisbury, Md. (Friday, April 13, 2018) — Fifty years ago, the introduction of PERDUE® branded chicken forever transformed the chicken business and went on to make history. On Friday, April 13, Perdue Farms commemorated the 50th anniversary of the PERDUE® brand at the hometown Salisbury processing plant that produced those very first chickens.
 "Before we processed our first chicken here, dad asked customers what they wanted, and the people working in this plant delivered on those expecations," said Jim Perdue, chairman and advertising spokesperson. "Today is a celebration of a brand and a plant, but also a reaffirmation of the promise to keep listening and responding to what consumers and customers expect from us."
"Perdue Farms has a long and proud history with the Eastern Shore and the State of Maryland," said Gov. Larry Hogan. "Our administration recognizes the importance of this iconic, family owned business to Maryland's economy, and I am proud to congratulate the Perdue family on the 50th anniversary of PERDUE® branded chicken."   

It was at the Salisbury plant that the late Frank Perdue established the quality standards that set his chicken apart from the competition, changing chicken from a commodity to branded product. In just a few years, thanks to the now-famous "It takes a tough man to make a tender chicken" advertising campaign, the Perdue name became as recognized in its New York and Northeast markets as many other iconic brands.
Today, the PERDUE® brand is the No. 1 brand of fresh chicken and No. 1 organic brand in the United States, with a rapidly growing portfolio of no-antibiotics-ever products under the PERDUE®, PERDUE® SIMPLY SMART® and PERDUE® HARVESTLAND® brands, and USDA-certified organic chicken under the PERDUE® HARVESTLAND® Organic brand.
The brand that started a half century ago in Salisbury is now a leader in no-antibiotics-ever, organic and advancements in how we raise chickens, and is continuing to deliver innovative ideas in chicken products.
The celebration also marked the 50th anniversary of the opening of the processing plant. That first plant – which continues to produce PERDUE® branded chicken today – was instrumental in Perdue's evolution from a local company raising chickens sold at live auctions to the fourth largest poultry company in the U.S.
In remarks at Friday's celebration, Maryland Commerce Secretary Mike Gill said, "I want to congratulate Perdue on the 50th anniversary of its legendary brand, as well as the Salisbury plant where the company's first chickens were processed. With a strong commitment to quality and customer service, Perdue is one of Maryland's most valued corporate partners, and we thank them for continuing to invest in our state."
Perdue also celebrated the contributions of associates whose careers each span 40-plus years at the Salisbury plant, combining for more than 300 years of dedicated service.

"The Salisbury plant is successful because of the experience of our associates," said Perdue. "So many people have made a tremendous impact on the growth of our brand and success of our company."
About Perdue Farms
We're a third-generation, family owned, U.S. food and agriculture company. Through our belief in responsible food and agriculture, we are empowering consumers, customers and farmers through trusted choices in products and services.
We focus on continuously improving everything we do, constantly learning, and sharing those insights across different production methods. That innovative approach is driving change throughout the company and onto farms. This continuous advancement is leading us toward our vision of becoming the most trusted name in food and agricultural products.
The PERDUE® brand is the number-one brand of fresh chicken in the U.S., and Perdue AgriBusiness is an international agricultural products and services company. As we approach our 100th anniversary in 2020, our path forward is about getting better, not just bigger. We never use drugs for growth promotion in raising poultry and livestock, and we are actively advancing our animal welfare programs. Our brands are leaders in no-antibiotics-ever chicken, turkey and pork, and in USDA-certified organic chicken. We've increased our support for the family farm by creating new markets, including specialty crops. Through agricultural services, we give farmers more options for the acre, including conversion to organic production and products and services that increase the sustainability of conventional agriculture. Learn more at www.perduefarms.com.