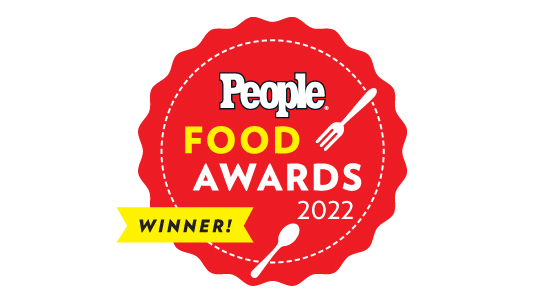 PERDUE® CHICKEN PLUS® Chicken Tots™ Among PEOPLE Magazine's Best Supermarket Products of the Year
June 22, 2022
Salisbury, Md. (Wednesday, June 22, 2022) — PERDUE® CHICKEN PLUS® Chicken Tots™ today was named a winner in the PEOPLE's Food Awards 2022 as one of the Best Supermarket Products of the Year. The Chicken Tots took gold as best chicken product among testers who selected the "most delicious new foods in the grocery store."
"The combo of white-meat chicken, cauliflower, chickpeas, cabbage and potatoes covered in a crunchy panko coating made it a star with parents," said PEOPLE editors, who sampled nearly 1,300 new products.
Chicken Tots are part of the PERDUE CHICKEN PLUS product lineup that also includes nuggets and tenders in the frozen foods section. In addition to its great taste and convenience, this and all PERDUE CHICKEN PLUS products blend the PERDUE chicken that consumers love with vegetables for ¼ cup of veggies per serving. Additionally, the PERDUE CHICKEN PLUS Chicken Tots boast nine grams of protein per serving.
"PERDUE CHICKEN PLUS Chicken Tots combine two of America's favorite comfort foods, chicken nuggets and tater tots, into one delicious, bite-sized snack," said Jon Swadley, Vice President, Marketing at Perdue Foods. "They're a great way to get your protein and veggies all at once and are perfect for kids and today's flexitarian families. All CHICKEN PLUS products are minimally processed and do not contain any artificial ingredients."
The story will appear in the July 4 issue, on stands beginning June 24. You can see it online now.
About Perdue Foods
The PERDUE® brand is the number-one brand of fresh chicken in the U.S., with a full lineup of no-antibiotics-ever products under the PERDUE®, PERDUE® HARVESTLAND®, and PERDUE® Chicken Plus® brands, and USDA certified organic chicken under the PERDUE® HARVESTLAND® Organic and PERDUE® SIMPLY SMART® ORGANICS™ brands. We're recognized as the first to successfully market chicken by branding and advertising a product measurably superior to the competition, and we've been innovating ever since. All of our chickens are fed an all-vegetarian diet with no animal by-products. They're cared for in a clean, safe environment, and our programs are verified by the USDA. We've led the way in raising healthy poultry without antibiotics, and we're setting new standards for animal care. Learn more at www.perdue.com.
About Perdue Farms
We're a fourth-generation, family-owned, U.S. food and agriculture company. Through our belief in responsible food and agriculture, we are empowering consumers, customers, and farmers through trusted choices in products and services.
The premium protein portfolio within our Perdue Foods business, including our flagship PERDUE® brand, Niman Ranch®, Panorama Organic Grass-Fed Meats®, Coleman Natural®, and Yummy®, as well as our pet brands, Spot Farms® and Full Moon®, is available through various channels including retail, foodservice, club stores and our direct-to-consumer website, PerdueFarms.com. 
Perdue AgriBusiness is an international agricultural products and services company.   
Now in our company's second century, our path forward is about getting better, not just bigger. We never use drugs for growth promotion in raising poultry and livestock, and we are actively advancing our animal welfare programs. Our brands are leaders in no-antibiotics-ever chicken, turkey, pork, beef, and lamb, and in USDA-certified organic chicken and beef. Learn more at Corporate.PerdueFarms.com.