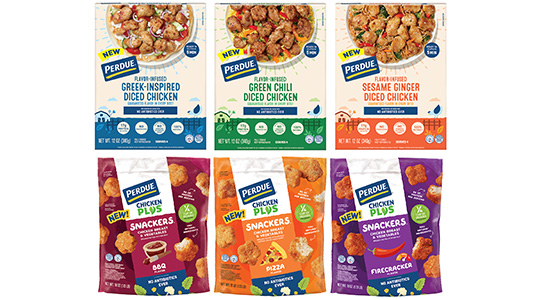 PERDUE® Debuts Two New Product Lines: Flavor-Infused Chicken & Chicken Plus Snackers
The launch is part of the brand's continued focus on innovation which meets consumer need for new flavors during meal and snacking occasions
January 18, 2023
SALISBURY, Md. (Jan. 18, 2023) — PERDUE® today announced the launch of two new meal and snacking lines in its portfolio, PERDUE® Flavor-Infused Chicken and PERDUE® Chicken Plus Snackers. Both product lines were developed as part of Perdue's continued focus on providing innovative, flavorful products that give consumers simple, high-quality, better-for-you options for meals and snacking occasions.
PERDUE® Flavor-Infused Chicken is delicious, versatile, and easily combined with other ingredients like pasta or rice and veggies to make a tasty dish in minutes with authentic flavors from around the globe. Flavor-Infused Chicken comes refrigerated and ready to heat and eat, is 100% natural, and minimally processed without artificial ingredients. And, our chickens are raised with no antibiotics ever. Perdue uses a 'sous vide' cooking process to vacuum seal and slow-cook the chicken, resulting in ultra-tender, extra juicy, flavor-infused chicken fully cooked to perfection. Available in three varieties – Sesame Ginger, Green Chili, and Greek – PERDUE® Flavor-Infused Chicken gives you guaranteed flavor in every bite. Ready in as little as five minutes, Flavor-Infused Chicken can be enjoyed in a variety of ways. Whether adding a burst of flavor to an Asian Stir Fry with the Sesame Ginger variety, an authentic twist to Chicken and Spanish Rice with the Green Chili variety, or a savory spin to a Gyro with the Greek style, the recipe possibilities are endless!
PERDUE® Chicken Plus Snackers are a bite-sized, pop-able snack designed to combine the crave-able flavors that teens want with more of the nutrition parents love. This new Perdue Chicken product line is 100% natural, and minimally processed without artificial ingredients. And, our chickens are raised with no antibiotics ever. Featuring three iconic snacking flavors – Pizza, BBQ, and Firecracker – and a quarter cup of veggies and 9 grams of protein in every serving, PERDUE® Chicken Plus Snackers blend delicious Perdue Chicken with real plants and vegetables, but kids only taste the chicken, so they won't know the difference. Whether cooked in an oven, air fryer, or microwave, they can be ready in minutes to take on the go for the busy family or enjoyed at home as the perfect snack.
"Perdue is constantly innovating to meet the needs of consumers seeking easier, healthier ways to explore new flavors," said Jeff Knabe, Director of Marketing – Prepared Foods Innovation, Perdue Foods. "New Flavor-Infused Chicken gives consumers the chance to experience flavors from around the world and enjoy restaurant-quality, fresh meals at home. New Chicken Plus Snackers also deliver delicious flavor and are a healthier option within the snacking category that both teens and parents will love."
Flavor-Infused Chicken is available beginning January at major retailers nationwide including Kroger, Shoprite, Hannaford, Shaw's, Acme, Safeway, Weis, Big Y, Key Foods, Redner's, and Dierbergs. Chicken Plus Snackers are also available beginning January at major retailers nationwide including Meijer, Acme, Safeway, Demoulas, Redner's, Weis, Shoprite, Giant, Dierbergs, and for purchase online at PerdueFarms.com for direct delivery to your home.
Please visit Perdue.com/products for more about Perdue's portfolio offerings and Perdue.com/recipes for recipe inspiration. Be sure to follow @PerdueChicken on Instagram, Twitter, and Facebook, and @PerdueFarms on Instagram, Twitter, and Facebook for product and brand updates.
About Perdue Foods 
The PERDUE® brand is the number-one brand of fresh chicken in the U.S., with a full lineup of no-antibiotics-ever products under the PERDUE®, PERDUE® HARVESTLAND®, and PERDUE® Chicken Plus® brands, and USDA certified organic chicken under the PERDUE® HARVESTLAND® Organic and PERDUE® SIMPLY SMART® ORGANICS™ brands. We're recognized as the first to successfully market chicken by branding and advertising a product measurably superior to the competition, and we've been innovating ever since. All of our chickens are fed an all-vegetarian diet with no animal by-products. They're cared for in a clean, safe environment, and our programs are verified by the USDA. We've led the way in raising healthy poultry without antibiotics, and we're setting new standards for animal care. Learn more at www.perdue.com.
About Perdue Farms
We're a fourth-generation, family-owned, U.S. food and agriculture company. Through our belief in responsible food and agriculture, we are empowering consumers, customers, and farmers through trusted choices in products and services.
The premium protein portfolio within our Perdue Foods business, including our flagship PERDUE® brand, Niman Ranch®, Panorama Organic Grass-Fed Meats®, Coleman Natural®, and Yummy®, as well as our pet brands, Spot Farms® and Full Moon®, is available through various channels including retail, foodservice, club stores and our direct-to-consumer website, PerdueFarms.com. 
Perdue AgriBusiness is an international agricultural products and services company.  
Now in our company's second century, our path forward is about getting better, not just bigger. We never use drugs for growth promotion in raising poultry and livestock, and we are actively advancing our animal welfare programs. Our brands are leaders in no-antibiotics-ever chicken, turkey, pork, beef, and lamb, and in USDA-certified organic chicken and beef. Learn more at Corporate.PerdueFarms.com.