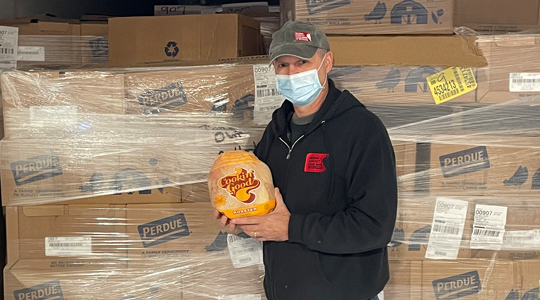 Perdue Donates 43,000 Pounds of Protein to Second Harvest Food Bank of Metrolina to Help People Struggling Amid Pandemic
Part of Company's 'Delivering Hope To Our Neighbors®' Initiative
November 2, 2021
SALISBURY, MD. (Tuesday, November 2, 2021) — As part of a commitment to alleviate hunger, Perdue Farms has donated 43,000 pounds of no-antibiotics-ever chicken to help Second Harvest Food Bank of Metrolina in Charlotte, N.C., celebrate 40 years of feeding the hungry, especially during the ongoing demand amid the Covid-19 pandemic.
The donation, the equivalent of nearly 36,000 meals, is part of Perdue's "Delivering Hope To Our Neighbors® initiative focused, in part, on hunger relief, and improving quality of life and building strong communities where its associates live and work and beyond.
As part of its 40th anniversary celebration, Second Harvest Food Bank of Metrolina launched a two-month campaign in September to secure 400,000 pounds of protein, produce, dairy and staple items to help meet the increased demand for food ahead of Thanksgiving. Perdue's donation, one of many truckloads from numerous food industry partners, puts the campaign over the top of its goal.
"Here at Second Harvest Food Bank of Metrolina, we understand that hunger is all around us and getting the food to hungry Carolinians requires a lot of resources" said Kay Carter, CEO of the food bank. "We're grateful for partners like Perdue Farms, who provide valuable protein that enables so many of our food insecure neighbors to put a nutritious meal on the table. This donation will go a long way to help many of our neighbors in communities across our 24-county service area."
Second Harvest Food Bank of Metrolina opened its doors in September 1981. Forty years later, hunger is at an all-time hunger due to the impact of the Covid-19 pandemic, according to Carter.
"In the wake of the pandemic, unemployment and food security soared nationwide, including here in our service area where 13.8 percent of our population, over 512,000 people, live in poverty including more than 168,000 children and 50,000 seniors," said Carter.
"At Perdue Farms, we are passionate about helping our neighbors in need in our communities," said Bill See, senior manager of community relations for Perdue Farms. "We're hopeful this donation of nutritious protein will deliver some much-needed relief to many and inspire others to join us in the fight against hunger."
To learn more about how Perdue Farms is Delivering Hope To Our Neighbors®, visit this link.
About Perdue Farms
We're a fourth-generation, family owned, U.S. food and agriculture company. Through our belief in responsible food and agriculture, we are empowering consumers, customers, and farmers through trusted choices in products and services.
The premium protein portfolio within our Perdue Foods business, including our flagship PERDUE® brand, Niman Ranch®, Panorama Organic Grass-Fed Meats®, Coleman Natural®, and Yummy®, as well as our pet brands, Spot Farms® and Full Moon®, is available through various channels including retail, foodservice, club stores, and our direct-to-consumer website, PerdueFarms.com. 
Perdue AgriBusiness is an international agricultural products and services company.  
Now in our company's second century, our path forward is about getting better, not just bigger. We never use drugs for growth promotion in raising poultry and livestock, and we are actively advancing our animal welfare programs. Our brands are leaders in no-antibiotics-ever chicken, turkey, pork, beef and lamb, and in USDA-certified organic chicken and beef. Learn more at Corporate.PerdueFarms.com.
About Second Harvest Food Bank of Metrolina
As part of Feeding America, Second Harvest Food Bank of Metrolina serves 24 counties in North and South Carolina. In FY2020-2021, Second Harvest Food Bank of Metrolina distributed over 82 million pounds of food and household items to over 800 hunger feeding agencies including emergency pantries, soup kitchens, senior programs, shelters, and low-income daycares. Follow the Food Bank on: Facebook, Twitter, Instagram, Linkedin, and YouTube.