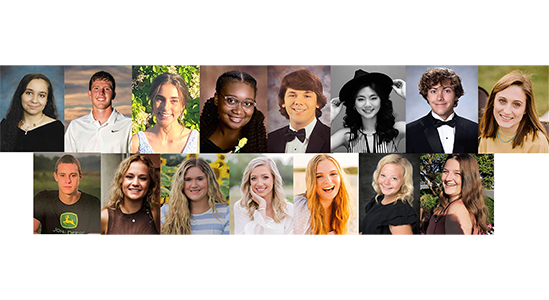 Perdue Farms Announces 2022 College Scholarship Winners
Awards Given to Children of Associates and Farmers
June 15, 2022
SALISBURY, Md. (Wednesday, June 15, 2022)— Perdue Farms, through the Franklin P. and Arthur W. Perdue Foundation, has awarded 15 students $5,000 scholarships to attend college in the fall. The $75,000 scholarship program is part of the company's Delivering Hope To Our Neighbors® initiative focused on improving quality of life and building strong communities.
Kole Buechler of Celeste, Ind., one of the students to receive scholarships, will attend the University of Evansville in Indiana to pursue a degree in mechanical engineering.
"Being one of the recipients of this scholarship is an honor," said Buechler, whose parents, Kris and Janel, are independent contract turkey farmers for Perdue Farms in Indiana. "This scholarship will help me pay for tuition and books this fall, getting me one step closer to a successful future."
The Perdue Foundation, the charitable giving arm of Perdue Farms, has awarded scholarships to children of its associates and independent farm family partners every year since 1983.
"In these difficult economic times, every dollar counts when it comes to assuring that parents can afford the rising cost of sending their children to college," said Kim Nechay, executive director of the Perdue Foundation. "At Perdue, we are committed to helping students access the education opportunities that will help them achieve a better quality of life."
 Other students who received a Perdue Foundation scholarship are: 
Alyssa Davison

, Washington, Ind., University of West Florida, marine biology (daughter of Kyle and Jessica Davison)

Kaylee Gasque

, Dillon, S.C, Charleston Southern University, nursing (daughter of Eric and Danielle Gasque)

Carson Gunter, Sanford, N.C.,

 

North Carolina State University

, animal sciences (daughter of Kim and Graham Gilmore and Cary and Crystal Gunter)

Bailey Hardison, Parsonsburg, Md., University of Georgia, political science (daughter of Mark and Kristy Hardison)
Lilyan Luu

, Suwanee, Ga., Georgia Institute of Technology, neuroscience (daughter of Ha Luu and Cathy Tran)

Vivian Miltner

, Chicago, Georgetown University, international political economy (daughter of Kerri McClimen)

Raven Molock, Vienna, Md.,

 

Stevenson University

, pre-med (daughter of Rudolph and Voncia Molock)
Jordan Reading, Salisbury, Md., West Virginia University,

 

accounting

 

(daughter of Jay and Margie Reading)
Michael Roach

, Emporia, Va., Virginia Tech, forestry (son of Michael and Sheila Roach)

Adriana Rodriguez, Laurel Hill, N.C.,

 

University of North Carolina

 

at Pembroke, animal sciences (daughter of Eric Rodriguez-Hernandez and Eva Gonzalez)
Aden Thewes

, Celestine, Ind., Oakland City University, health and fitness (son of Duane and Courtney Thewes)

Kristian Tolbert, Berlin, Md.,

 

University of Delaware, exercise science (son of Mark Tolbert and Kali Kniel-Tolbert

)

Emma Vanhoy

, Catawba, N.C., North Carolina State University, agribusiness (daughter of Scott and Robin Vanhoy)

Adison Wright

, Ocean View, Del., Salisbury University, music education (daughter of Edward and Alesia Wright)
About the Franklin P. and Arthur W. Perdue Foundation
The Franklin P. and Arthur W. Perdue Foundation, the charitable giving arm of Perdue Farms, was established in 1957 by company founder Arthur W. Perdue and is funded through the estates of Arthur W. Perdue and Frank Perdue. As part of our belief in supporting the communities where and with whom we do business, the Foundation provides grants on behalf of Perdue Farms in communities where large numbers of our associates live and work. At Perdue Farms, we believe in responsible food and agriculture®.
About Perdue Farms
We're a fourth-generation, family-owned, U.S. food and agriculture company. Through our belief in responsible food and agriculture, we are empowering consumers, customers, and farmers through trusted choices in products and services. The premium protein portfolio within our Perdue Foods business, including our flagship PERDUE® brand, Niman Ranch®, Panorama Organic Grass-Fed Meats®, Coleman Natural®, and Yummy®, as well as our pet brands, Spot Farms® and Full Moon®, is available through various channels including retail, foodservice, club stores and our direct-to-consumer website, PerdueFarms.com. 
Perdue AgriBusiness is an international agricultural products and services company.  
Now in our company's second century, our path forward is about getting better, not just bigger. We never use drugs for growth promotion in raising poultry and livestock, and we are actively advancing our animal welfare programs. Our brands are leaders in no-antibiotics-ever chicken, turkey, pork, beef, and lamb, and in USDA-certified organic chicken and beef. Learn more at Corporate.PerdueFarms.com.