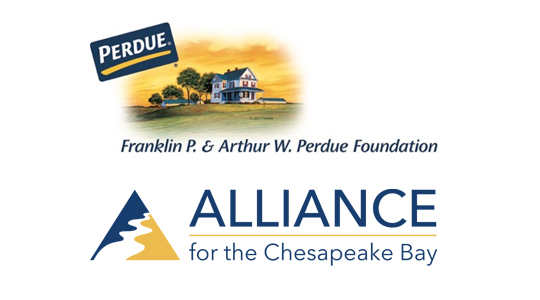 Perdue Farms awards $10,000 to Alliance for the Chesapeake Bay
Funds will support Project Clean Stream environmental stewardship initiative
August 17, 2021
ANNAPOLIS, Md. (Tuesday, August 17, 2021) — Perdue Farms, through its Franklin P. and Arthur W. Perdue Foundation, has awarded a $10,000 grant to continue its support of the Alliance for the Chesapeake Bay's Project Clean Stream environmental stewardship initiative.
Project Clean Stream (PCS) is an annual program that gathers thousands of volunteers from communities and companies across the Chesapeake watershed to clean up trash before it reaches creeks, rivers and streams. Volunteers learn how their daily actions can improve the health of their communities and local water quality and restore and protect the Chesapeake Bay.
"Project Clean Stream has grown from a small grassroots effort started in 2004 to become the largest annual Chesapeake watershed-wide cleanup effort," said Lucy Heller, Alliance for the Chesapeake Bay engagement specialist. "Thousands of volunteers participate annually to clean up sites coordinated by the alliance in all six Bay states and Washington, D.C."
PCS needs a year-round coordinator to manage outreach, support site captains and corporate partners in their cleanup efforts; to identify cleanup sites; to rally new volunteers; and establish new partnerships. Perdue's support provides funds for the coordinator position.
"In addition to providing assistance with the coordination of events, the alliance supplies gloves and trash bags to volunteers participating in PCS events," Heller said.
Since 2008, PCS has activated about 400,000 volunteers to remove 20 million pounds of trash from the Chesapeake Bay watershed. It was then that Perdue joined the Alliance for the Chesapeake Bay Project Clean Stream initiative. Since then, the company has expanded the Project Clean Stream concept across the company's footprint and engaged associates in environmental projects that have removed more than 500,000 pounds of trash and debris from local communities. Associates have contributed more than 23,000 volunteer hours to the effort.
"Countless waterways and communities have benefited from this work," Heller said. "This year, we aim to engage 5,000 new volunteers and remove tens of thousands of pounds of trash. Project Clean Stream would not be possible without the vital support of sponsors such as the Perdue Foundation." 
Kim Nechay, executive director of the Perdue Foundation, said: "Perdue Farms is very happy to continue its support for the Alliance for the Chesapeake Bay and Project Clean Stream. This project provides a truly meaningful opportunity for Perdue associates, residents and businesses to come together and make a difference in improving the health of their local community and being a catalyst for change and clean water."
About the Franklin P. and Arthur W. Perdue Foundation
The Franklin P. and Arthur W. Perdue Foundation, the charitable giving arm of Perdue Farms, was established in 1957 by company founder Arthur W. Perdue and is funded through the estates of Arthur W. Perdue and Frank Perdue. As part of our belief in supporting the communities where and with whom we do business, the Foundation provides grants on behalf of Perdue Farms in communities where large numbers of our associates live and work. At Perdue Farms, we believe in responsible food and agriculture®.
About Perdue Farms
We're a fourth-generation, family owned, U.S. food and agriculture company. Through our belief in responsible food and agriculture, we are empowering consumers, customers, and farmers through trusted choices in products and services.
The premium protein portfolio within our Perdue Foods business, including our flagship PERDUE® brand, Niman Ranch®, Panorama Organic Grass-Fed Meats®, Coleman Natural®, and Yummy®, as well as our pet brands, Spot Farms® and Full Moon®, is available through various channels including retail, foodservice, club stores, and our direct-to-consumer website, PerdueFarms.com. 
Perdue AgriBusiness is an international agricultural products and services company.  
Now in our company's second century, our path forward is about getting better, not just bigger. We never use drugs for growth promotion in raising poultry and livestock, and we are actively advancing our animal welfare programs. Our brands are leaders in no-antibiotics-ever chicken, turkey, pork, beef and lamb, and in USDA-certified organic chicken and beef. Learn more at Corporate.PerdueFarms.com.