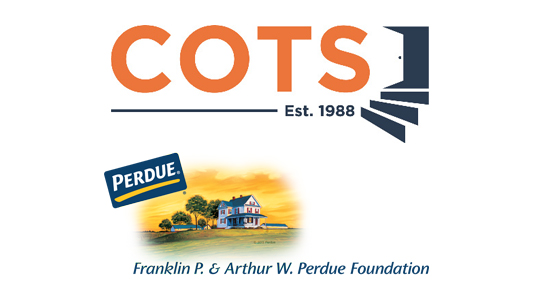 Perdue Farms awards $10,000 to Committee on the Shelterless (COTS) in Petaluma, CA
Supports Client Enrichment Services housing stability program
August 31, 2021
SALISBURY, Md. (Tuesday, August 31, 2021) — Perdue Farms, through its Franklin P. and Arthur W. Perdue Foundation, has awarded a $10,000 grant to Committee on the Shelterless (COTS) in Petauma, Calif., to assist those experiencing homelessness in their efforts to find and keep housing. COTS' Client Enrichment Services matches the urgent community need for a multi-faceted approach to ending homelessness.
"We envision a community where everyone has a place to call home," said Chuck Fernandez, CEO of COTS. "Our programs are geared to helping people find—and keep—housing of their own. Each year, we support more than a thousand individuals and families across our shelter and housing programs."
Client Enrichment Services provides assistance to all COTS shelter or housing clients interested in increasing self-sufficiency — an important component of housing stability.
"COTS' Client Enrichment Services are designed to help those experiencing homelessness identify, address and resolve legal, employment, and financial obstacles that often stand in the way of securing permanent housing," said Fernandez. "The outcome goal is to make homelessness a brief, rare and non-recurring experience; and to make safe, secure, and permanent housing a reality for more people in our community."  
The Perdue funds will help individuals build self-sufficiency and provide access to extensive client resources, including housing and employment search assistance, job boards and employment opportunities, legal assistance, budgeting workshops, credit repair counseling, rental resume and landlord relations training, computer skills lessons, and referrals to local community resources.
"While COTS has a dedicated base of support, our success and the success of the people we serve is a direct result of the ongoing support from funders such as the Perdue Foundation," Fernandez said. 
Kim Nechay, executive director of the Perdue Foundation, said, "Perdue Farms is very happy to provide assistance to COTS' Client Enrichment Services program. We share COTS' commitment to finding what works best for our community, and we are proud to support their tireless efforts to assist people to transition from homelessness to permanent homes." 
About the Franklin P. and Arthur W. Perdue Foundation
The Franklin P. and Arthur W. Perdue Foundation, the charitable giving arm of Perdue Farms, was established in 1957 by company founder Arthur W. Perdue and is funded through the estates of Arthur W. Perdue and Frank Perdue. As part of our belief in supporting the communities where and with whom we do business, the Foundation provides grants on behalf of Perdue Farms in communities where large numbers of our associates live and work. At Perdue Farms, we believe in responsible food and agriculture®.
About Perdue Farms
We're a fourth-generation, family owned, U.S. food and agriculture company. Through our belief in responsible food and agriculture, we are empowering consumers, customers, and farmers through trusted choices in products and services.
The premium protein portfolio within our Perdue Foods business, including our flagship PERDUE® brand, Niman Ranch®, Panorama Organic Grass-Fed Meats®, Coleman Natural®, and Yummy®, as well as our pet brands, Spot Farms® and Full Moon®, is available through various channels including retail, foodservice, club stores, and our direct-to-consumer website, PerdueFarms.com. 
Perdue AgriBusiness is an international agricultural products and services company.  
Now in our company's second century, our path forward is about getting better, not just bigger. We never use drugs for growth promotion in raising poultry and livestock, and we are actively advancing our animal welfare programs. Our brands are leaders in no-antibiotics-ever chicken, turkey, pork, beef and lamb, and in USDA-certified organic chicken and beef.
Learn more at Corporate.PerdueFarms.com.