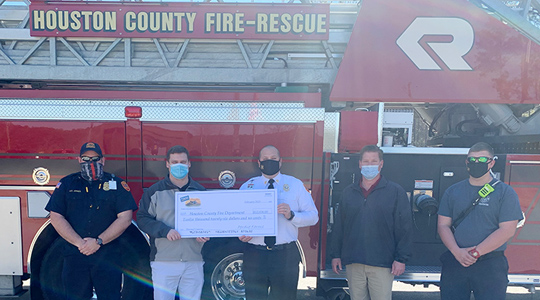 Perdue Farms awards $12,026 to Houston County Fire Department in Georgia
Funds will pay for two thermal imaging cameras
June 15, 2021
SALISBURY, MD. (June 15, 2021) — Perdue Farms, through its Franklin P. and Arthur W. Perdue Foundation, has awarded a $12,026 grant to Houston County Fire Department in central Georgia to replace two inoperable thermal imaging cameras.
"Each of our fire trucks carries one camera and we have been able to replace two of these over the previous year. However, the remaining six cameras are still in need of replacement," said Christopher Stoner, Houston County Fire Department chief. The funds from Perdue will pay for two of the six cameras.
Thermal imaging cameras are a primary tool for firefighters at emergency scenes, helping find people or firefighters trapped in a fire. They also ensure all fire is found and extinguished, preventing further property damage.
"By utilizing a camera during rescue, it can significantly shorten the time it takes for firefighters to locate and remove a trapped occupant, possibly meaning the difference between life and death," said Stoner.
All eight of Houston County Fire Department's fire trucks will have a functioning thermal camera when the department buys the six new cameras.
Houston County Fire Department is responsible for all emergency calls and nonemergency fire and rescue service to unincorporated areas of Houston County. The department promotes fire prevention with visits to local schools, churches and businesses.
"Perdue Farms is very happy to support Houston County Fire Department and the purchase of new thermal imaging cameras," said Kim Nechay, executive director of the Perdue Foundation. "At Perdue, we recognize the important role firefighters serve within our communities. We are honored to support them and help ensure they have the resources needed to make our community safe for our neighbors." 
About the Franklin P. and Arthur W. Perdue Foundation
The Franklin P. and Arthur W. Perdue Foundation, the charitable giving arm of Perdue Farms, was established in 1957 by company founder Arthur W. Perdue and is funded through the estates of Arthur W. Perdue and Frank Perdue. As part of our belief in supporting the communities where and with whom we do business, the Foundation provides grants on behalf of Perdue Farms in communities where large numbers of our associates live and work. At Perdue Farms, we believe in responsible food and agriculture®.
About Perdue Farms
We're a fourth-generation, family owned, U.S. food and agriculture company. Through our belief in responsible food and agriculture, we are empowering consumers, customers, and farmers through trusted choices in products and services.
The premium protein portfolio within our Perdue Foods business, including our flagship PERDUE® brand, Niman Ranch®, Panorama Organic Grass-Fed Meats®, Coleman Natural®, and Yummy®, as well as our pet brands, Spot Farms® and Full Moon®, is available through various channels including retail, foodservice, club stores, and our direct-to-consumer website, PerdueFarms.com. 
Perdue AgriBusiness is an international agricultural products and services company.  
Now in our company's second century, our path forward is about getting better, not just bigger. We never use drugs for growth promotion in raising poultry and livestock, and we are actively advancing our animal welfare programs. Our brands are leaders in no-antibiotics-ever chicken, turkey, pork, beef and lamb, and in USDA-certified organic chicken and beef. Learn more at Corporate.PerdueFarms.com.