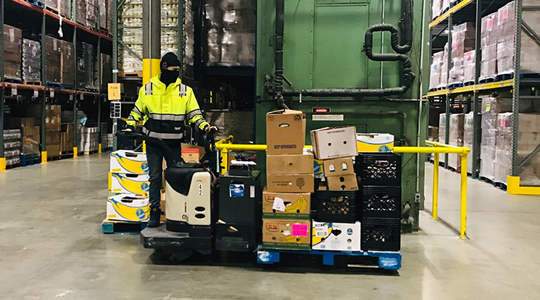 Perdue Farms Awards $8,000 Grant to Helping Harvest Fresh Food Bank in PA for New Warehouse Equipment
February 10, 2021
Salisbury, Md. (Wednesday, February 10, 2021) — Perdue Farms, through its Franklin P. and Arthur W. Perdue Foundation, has awarded a $8,000 grant to Helping Harvest Fresh Food Bank in Reading, Pa., for the purchase of a ride-on electric pallet jack. The donation aligns with the company's "Delivering Hope To Our Neighbors™" initiative focused on providing access to nutritious protein for people struggling with hunger and making meaningful progress toward ending hunger.
The food bank distributes to more than 300 food pantries, soup kitchens, shelters and after-school programs every year in Berks and Schuykill counties.
"As a result of the COVID-19 pandemic, Greater Berks Food Bank has seen the demand on its services skyrocket," said Doug Long, the food bank's director of development. "We are now distributing more than 1 million pounds of food a month, nearly double the monthly average from 2019. To keep up with demand, we have had to significantly increase our warehouse staff and equipment."
The need for more staff is expected to continue well into the future. More equipment is needed to help the larger staff effectively and efficiently perform its duties.
The ride-on pallet jack that we will purchase with these funds will be used to help our increased staff unload trucks, weigh pallets of food, store food, pull orders and load trucks," Long said.
Kim Nechay, executive director of the Perdue Foundation, said, "Perdue Farms is pleased to provide financial assistance to Helping Harvest Fresh Food Bank during this difficult time. Helping it keep up with daily operations means the food bank is receiving and distributing the amount of food necessary to feed local families in need."
About the Franklin P. and Arthur W. Perdue Foundation
The Franklin P. and Arthur W. Perdue Foundation, the charitable giving arm of Perdue Farms, was established in 1957 by company founder Arthur W. Perdue and is funded through the estates of Arthur W. Perdue and Frank Perdue. As part of our belief in supporting the communities where and with whom we do business, the Foundation provides grants on behalf of Perdue Farms in communities where large numbers of our associates live and work. At Perdue Farms, we believe in responsible food and agriculture®.
About Perdue Farms
We're a fourth-generation, family owned, U.S. food and agriculture company. Through our belief in responsible food and agriculture, we are empowering consumers, customers, and farmers through trusted choices in products and services.
The premium protein portfolio within our Perdue Foods business, including our flagship PERDUE® brand, Niman Ranch®, Panorama Grass Fed Beef®, and Coleman Natural®, as well as our pet brands, Spot Farms and Full Moon, is available through retail, foodservice, and our new direct-to-consumer website, PerdueFarms.com. 
Perdue AgriBusiness is an international agricultural products and services company. 
Now in our company's centennial year, our path forward is about getting better, not just bigger. We never use drugs for growth promotion in raising poultry and livestock, and we are actively advancing our animal welfare programs. Our brands are leaders in no-antibiotics-ever chicken, turkey, pork, beef and lamb, and in USDA-certified organic chicken and beef. Learn more at corporate.perduefarms.com.
About Helping Harvest Fresh Food Bank
The mission of Helping Harvest Fresh Food Bank (DBA Helping Harvest) is to feed the hungry by acquiring and distributing food to people in need. Information: helpingharvest.org.