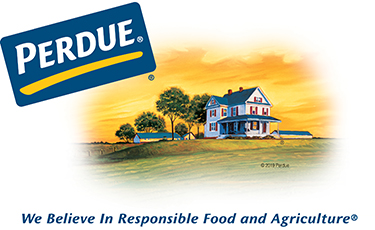 Perdue Farms Calls for CDC and State Governors to Prioritize Meat and Poultry Workers, Establish a Multi-State Coordinated Plan as COVID-19 Vaccine Is Distributed
December 10, 2020
Salisbury, Md. (Thursday, Dec. 10, 2020) – Today, Perdue Farms, the United States' fourth largest poultry producer which operates meat and poultry processing facilities in 15 states, called on the U.S. Centers for Disease Control and Prevention (CDC) and state governments to prioritize essential meat and poultry industry workers, and their families and co-habitants, for vaccine prioritization as part of Phase 1b of distribution. Perdue also offered resources to assist the CDC and states in this effort, recognizing that a successful vaccine program will require partnership between government and private industry.
Specifically, because many meat and poultry industry workers, including Perdue associates, live in one state but work in another, Perdue urged the CDC and governors to develop a multi-state strategy for vaccine distribution and education efforts, to avoid confusion that a patchwork of state policies would create and that would potentially inhibit participation rates. As stated in the letter, to truly stop the spread of this virus, and to protect the men and women who continue to support our economy and food supply through their essential work, meat and poultry employees—and those who live with them—must be able to receive a vaccine as quickly as possible.
Additionally, Perdue offered to support state and federal health officials in multi-lingual educational and outreach efforts regarding the vaccine. Perdue regularly works with local leaders in the communities where it operates and its associates live, and the company stands ready to support the important work of education and information dissemination through direct employee communications and broader education efforts in these communities.
Full text of Perdue's letter to the CDC can be accessed here. Perdue also sent letters to the governors of California, Delaware, Georgia, Iowa, Indiana, Kentucky, North Carolina, Maryland, Michigan, North Carolina, Pennsylvania, South Carolina, Tennessee, Texas, Virginia, and Washington.
More information about Perdue's response to COVID-19, including measures taken to protect the safety of our employees, can be found here.
About Perdue Farms
We're a fourth-generation, family owned, U.S. food and agriculture company. Through our belief in responsible food and agriculture, we are empowering consumers, customers, and farmers through trusted choices in products and services.
The premium protein portfolio within our Perdue Foods business, including our flagship PERDUE® brand, Niman Ranch®, Panorama Grass Fed Beef®, and Coleman Natural®, as well as our pet brands, Spot Farms and Full Moon, is available through retail, foodservice, and our new direct-to-consumer website, PerdueFarms.com. 
Perdue AgriBusiness is an international agricultural products and services company. 
Now in our company's centennial year, our path forward is about getting better, not just bigger. We never use drugs for growth promotion in raising poultry and livestock, and we are actively advancing our animal welfare programs. Our brands are leaders in no-antibiotics-ever chicken, turkey, pork, beef and lamb, and in USDA-certified organic chicken and beef. Learn more at corporate.perduefarms.com.