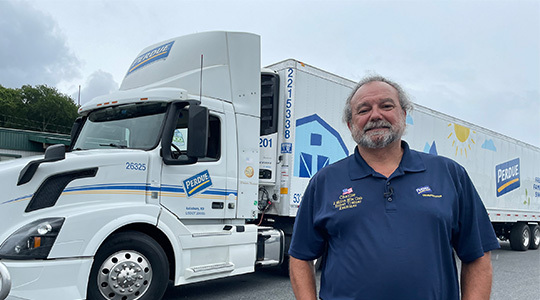 Perdue Farms Celebrates National Truck Driver Appreciation Week
Veteran Perdue Driver, Charlie Dennis, Is One of The Unsung Highway Heroes
September 12, 2023
Salisbury, MD (September 12, 2023) – Perdue Farms, the fourth largest food and agriculture company in the United States, is celebrating its 776 certified professional truck drivers who are among the 3.5 million hard-working and dedicated men and women who not only deliver the country's goods safely, securely, and on time, but also keep the nation's highways safe this National Truck Driver Appreciation Week September 10-16. 
"I started my career as a Route Sales truck driver in Omaha, Nebraska, and drove a semi-transport between Omaha and Kansas City, delivering fresh bread and rolls to customers. From long hours on the road away from family to the responsibility of transporting company products, there is so much more than what meets the eye," said Kevin McAdams, CEO of Perdue Farms. "Our professional drivers are the heart of our company, touching every part of the supply chain, and their commitment to our customers has not once faltered. The contributions of all truck drivers are felt in every corner of the country." 
Perdue truck driver Charlie Dennis has been driving for 36 of his 42 years at the company and has logged more than 2.25 million safe driving miles. The Company is proud to have employed 225 Million Mile Drivers, including Charlie. In his nearly four decades driving for Perdue Farms, Charlie has delivered to customers up and down the East Coast but now runs shorter hauls between Perdue facilities and trains new drivers. 
"Over the past 42 years working for Perdue Farms, I've seen first-hand how the Company respects and cares for its drivers. Beyond simply ensuring we have what we need to serve our customers, Perdue goes out of its way to help us on personal levels to help our fleet of drivers be successful," said Dennis. "I am proud to wear the Perdue Farms uniform because of the reputation we have amongst our customers and on the road." 
When he is not making deliveries from Perdue plants across Maryland's Eastern Shore or assisting with training, Charlie is active in supporting the community. He has volunteered at various food banks, supported the Wreaths Across America® mission, Perdue Touch-a-Truck events, the Special Olympics Delaware truck convoy, and Perdue's Operation Teddy, a 38-year holiday tradition of giving residents of a state of Maryland facility for those with disabilities rides in his big rig. He also helps at events hosted by the Delmar Volunteer Fire Department in Delaware. 
According to the American Trucking Association, trucks move 72.6% of the United States' freight by weight and is a $940.8 billion dollar industry that employs 3.5 million professional truck drivers.  
About Perdue Farms 
We're a fourth-generation, family-owned, U.S. food and agriculture company. Through our belief in responsible food and agriculture, we are empowering consumers, customers, and farmers through trusted choices in products and services. 
The premium protein portfolio within our Perdue Foods business, including our flagship PERDUE® brand, Niman Ranch®, Coleman Natural®, and Yummy®, as well as our pet brands, Spot Farms® and Full Moon®, is available through various channels including retail, foodservice, club stores, and our direct-to-consumer website, PerdueFarms.com.  
Perdue AgriBusiness is an international agricultural products and services company. 
Now in our company's second century, our path forward is about getting better, not just bigger. We never use drugs for growth promotion in raising poultry and livestock, and we are actively advancing our animal welfare programs. Our brands are leaders in no-antibiotics-ever chicken, turkey, pork, beef, and lamb, and in USDA-certified organic chicken and beef. Learn more at Corporate.PerdueFarms.com.