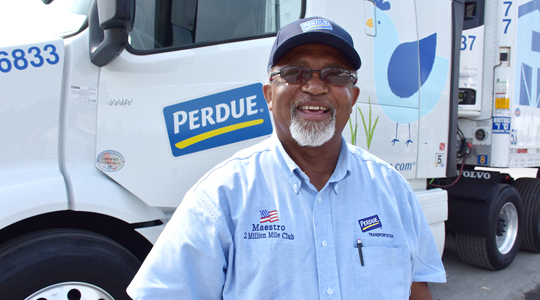 Perdue Farms Celebrates Truck Driver Appreciation Week
Veteran Perdue driver Curtis Dix is one of the unsung heroes of the highway
September 14, 2021
Salisbury, Md. (Tuesday, September 14, 2021) – Perdue Farms truck driver Curtis Dix is one of the 3.6 million men and women who not only deliver the country's goods safely, securely, and on time, but also keep the nation's highways safe.
As the nation celebrates Truck Driver Appreciation Week from Sept. 12 to 18, Perdue Farms salutes all truck drivers across the nation, including the more than 350 Perdue Transportation Inc. drivers for their crucial role during the ongoing Covid-19 pandemic. Perdue drivers travel more than 30 million miles annually to meet customers' needs.
"We believe that every week should be National Truck Driver Appreciation Week. Truck drivers are the unsung heroes of America's highways and economy," said Randy Day, CEO of Perdue Farms. "Our professional drivers are the heart of our company and their commitment to our customers has remained steadfast through one of the most challenging times in our nation's history."
As Dix explains, "During the pandemic, there was a shortage of many supplies and food. It made me feel proud to get out on the road and bring food to stores to help feed people. Most everything is moved around by truck these days, so there is always work to be had."
Dix, 72, based in Accomac, Va., has been driving trucks since 1979 and driving for Perdue since 1986. "A friend of mine was driving and I rode along with him on a long drive. I was hooked. After that, we both started driving for Perdue."
Dix has driven more than two million safe miles for Perdue, while traveling routes in the Northeast and Midwest, and he enjoys the camaraderie among his fellow truck drivers and often shares his knowledge with young drivers. Today, he mostly drives from Virginia to Connecticut and Massachusetts.
In addition to driving for Perdue, Dix said he is most proud of the work he does in the community, both in Virginia and in Maryland.
"Perdue has been very supportive of community projects," he said. "We have participated in numerous food drives, church projects, efforts for community organizations, and truck convoys. It makes me feel proud to know that we do so much in the community."
Dix and a few other truckers are credited with organizing Truckers' Day, which brings together truck drivers at churches to raise funds. They have also participated in Operation Teddy Bear, which has occurred around Christmas and allows developmentally challenged people to take a ride in a truck.
Perdue recently helped provide school supplies for students in the community. Dix said he is proud of all the work drivers do behind the scenes because that is very important to many of them.
"Truck drivers really are community-minded, and it makes me proud that I get to do this job," Dix said. "We have an amazing team behind us at Perdue and there is a feeling of fellowship among drivers. We worked hard during the pandemic to get the food where it needed to go. It's an important job and that's a good feeling."
According to the American Trucking Associations, the trucking industry accounts for more than 72 percent of all freight moved across the United States. It is a nearly $800 billion industry that employs 3.6 million professional truck drivers.
About Perdue Farms
We're a fourth-generation, family owned, U.S. food and agriculture company. Through our belief in responsible food and agriculture, we are empowering consumers, customers, and farmers through trusted choices in products and services.
The premium protein portfolio within our Perdue Foods business, including our flagship PERDUE® brand, Niman Ranch®, Panorama Organic Grass-Fed Meats®, Coleman Natural®, and Yummy®, as well as our pet brands, Spot Farms® and Full Moon®, is available through various channels including retail, foodservice, club stores, and our direct-to-consumer website, PerdueFarms.com. 
Perdue AgriBusiness is an international agricultural products and services company.  
Now in our company's second century, our path forward is about getting better, not just bigger. We never use drugs for growth promotion in raising poultry and livestock, and we are actively advancing our animal welfare programs. Our brands are leaders in no-antibiotics-ever chicken, turkey, pork, beef and lamb, and in USDA-certified organic chicken and beef.
Learn more at Corporate.PerdueFarms.com.