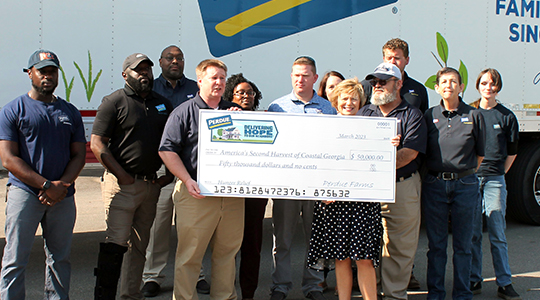 Perdue Farms Delivers $50,000 Grant To Support America's Second Harvest of Coastal Georgia "Feeding The Future" Capital Campaign
Company donates over 16,000 Pounds of Chicken Products and Associates Help Food Insecure Neighbors
March 8, 2023
Salisbury, Md. (Wednesday, March 8, 2023) — As part of a commitment to eliminate food insecurity, Perdue Farms has delivered a $50,000 grant to support America's Second Harvest of Coastal Georgia and its "Feeding the Future" capital campaign to build a new facility in Savannah, Ga.
The grant, funded by the Franklin P. and Arthur W. Perdue Foundation, and the delivery of 16,491 pounds of protein — the equivalent of more than 13,500 meals — are part of the company's Delivering Hope to Our Neighbors® outreach to improve quality of life and build strong communities. A group of Perdue associates were also on hand to help prepare meals for the Kids Cafe program, which provides approximately 4,200 hot evening meals, tutoring, and supervision for children who might otherwise go without dinner.
"Our partnership with Perdue Farms has truly been a blessing and we are privileged to have their Southeast Distribution Center in our service area," said Mary Jane Crouch, executive director of America's Second Harvest of Coastal Georgia. "A nutritious source of protein is so important to maintaining a healthy lifestyle but difficult for many to afford."
Crouch said Second Harvest is experiencing a 20 percent increase in the need for food assistance from pre-Covid 2019.  "With inflation at an all-time high, supply chain issues still prevalent and ongoing shortfalls in food donations, we are truly thankful that Perdue Farms continues to support our programs and the 21 counties that we serve. In the past five years alone, Perdue has donated over 10 million pounds of chicken products to help us ease the food insecurity burden in Coastal Georgia."
Second Harvest currently operates its Savannah operations from multiple buildings on non-adjacent sites. Through its Feeding the Future campaign, the food bank will relocate to a centralized 145,000-square-foot facility that includes warehouse space, a commercial kitchen, and a volunteer center to pack boxes of food for community and youth hunger programs. Second Harvest will increase its annual food distribution by 10 percent, from 22.9 million pounds of food distributed annually to 25.2 million pounds.
"At Perdue, we believe that in a country as rich in resources as ours no one should go hungry," said Rick Corona, facility manager of Perdue's Southeast Distribution Center in Rincon, Ga. "We're proud to support the work of America's Second Harvest of Coastal Georgia, especially during these tough economic times. We hope our support through the Perdue Foundation, our ongoing protein donations and efforts of our associate volunteers provides hope for our neighbors and inspires others to support the food bank's mission."
About the Franklin P. and Arthur W. Perdue Foundation
The Franklin P. and Arthur W. Perdue Foundation, the charitable giving arm of Perdue Farms, was established in 1957 by company founder Arthur W. Perdue and is funded through the estates of Arthur W. Perdue and Frank Perdue. As part of our belief in supporting the communities where and with whom we do business, the Foundation provides grants on behalf of Perdue Farms in communities where large numbers of our associates live and work. At Perdue Farms, we believe in responsible food and agriculture®.
About Perdue Farms
We're a fourth-generation, family-owned, U.S. food and agriculture company. Through our belief in responsible food and agriculture, we are empowering consumers, customers, and farmers through trusted choices in products and services.
The premium protein portfolio within our Perdue Foods business, including our flagship PERDUE® brand, Niman Ranch®, Panorama Organic Grass-Fed Meats®, Coleman Natural®, and Yummy®, as well as our pet brands, Spot Farms® and Full Moon®, is available through various channels including retail, foodservice, club stores and our direct-to-consumer website, PerdueFarms.com. 
Perdue AgriBusiness is an international agricultural products and services company.  
Now in our company's second century, our path forward is about getting better, not just bigger. We never use drugs for growth promotion in raising poultry and livestock, and we are actively advancing our animal welfare programs. Our brands are leaders in no-antibiotics-ever chicken, turkey, pork, beef, and lamb, and in USDA-certified organic chicken and beef. Learn more at Corporate.PerdueFarms.com.
About America's Second Harvest of Coastal Georgia
America's Second Harvest of Coastal Georgia serves as a regional food bank, functioning as the food warehouse and distribution center to more than 245 non-profit organizations and churches in our area.  Through food relief programs and collaboration with partner agencies, America's Second Harvest distributed more than 25.5 million pounds of food last year to people in need in our community – children, senior citizens, people with disabilities, people experiencing homelessness and others whose incomes are insufficient to meet their basic needs.  To learn more about how we are leading the effort to end hunger and improve lives in our community, call (912) 236-6750 or visit www.helpendhunger.org.