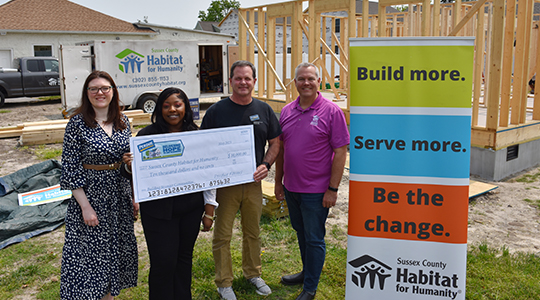 May 24, 2023
GEORGETOWN, Del. (Wednesday, May 24, 2023) — As part of a commitment to improve the quality of life in its communities, Perdue Farms is supporting Sussex County Habitat for Humanity (SCHFH) with a $10,000 grant funded through the Franklin P. and Arthur W. Perdue Foundation. The donation from Perdue's charitable giving arm is part of the company's Delivering Hope to Our Neighbors® initiative focused on improving quality of life and building strong communities.
SCHFH provides affordable homeownership opportunities, home repairs, energy efficiency upgrades, and financial literacy coaching for low-income Sussex County households. Founded in 1991, the organization has built and sold 170 affordable homes to low-income families and made more than 400 home repairs, accessibility modifications, and energy efficiency.
"We appreciate the generous support of our neighbors at Perdue Farms and will use the gift to improve community conditions and pride through neighborhood revitalization activities near the Perdue plant in Georgetown," said SCHFH CEO Kevin Gilmore said.
In partnership with local leaders and residents, SCHFH will complete four home repairs, conduct four home energy assessments, and hold two community cleanup days in Georgetown this year.
"These efforts will pair with SCHFH plans to build new Habitat homes in Georgetown in the coming years," Gilmore said. "SCHFH is committed to working with community partners like Perdue and local residents to address housing challenges in Georgetown through neighborhood revitalization."
Kim Nechay, executive director of the Perdue Foundation, said SCHFH is a stellar example of how community cooperation can accomplish much.
"Habitat for Humanity does great work in Sussex County, helping families and improving communities," she said. "We're pleased that the Perdue Foundation can support its programs."

About the Franklin P. and Arthur W. Perdue Foundation
The Franklin P. and Arthur W. Perdue Foundation, the charitable giving arm of Perdue Farms, was established in 1957 by company founder Arthur W. Perdue and is funded through the estates of Arthur W. Perdue and Frank Perdue. As part of our belief in supporting the communities where and with whom we do business, the Foundation provides grants on behalf of Perdue Farms in communities where large numbers of our associates live and work. At Perdue Farms, we believe in responsible food and agriculture®.
About Perdue Farms
We're a fourth-generation, family-owned, U.S. food and agriculture company. Through our belief in responsible food and agriculture, we are empowering consumers, customers, and farmers through trusted choices in products and services.
The premium protein portfolio within our Perdue Foods business, including our flagship PERDUE® brand, Niman Ranch®, Panorama Organic Grass-Fed Meats®, Coleman Natural®, and Yummy®, as well as our pet brands, Spot Farms® and Full Moon®, is available through various channels including retail, foodservice, club stores and our direct-to-consumer website, PerdueFarms.com. 
Perdue AgriBusiness is an international agricultural products and services company.  
Now in our company's second century, our path forward is about getting better, not just bigger. We never use drugs for growth promotion in raising poultry and livestock, and we are actively advancing our animal welfare programs. Our brands are leaders in no-antibiotics-ever chicken, turkey, pork, beef, and lamb, and in USDA-certified organic chicken and beef. Learn more at Corporate.PerdueFarms.com.