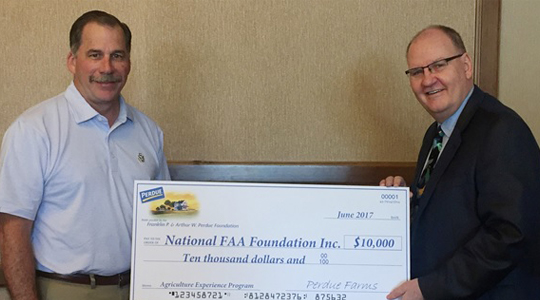 Perdue Farms Partners With National FFA Organization
July 7, 2017
SALISBURY, MD. (July 7, 2017) — Perdue Farms has recently become a new sponsor with the National FFA Organization and is working with the organization to provide FFA members the opportunity to grow into leaders, build their communities and strengthen agriculture through Supervised Agricultural Experience grants.
Perdue Farms announced a $10,000 donation through its charitable giving arm The Franklin P. and Arthur W. Perdue Foundation to the National FFA Foundation to fund SAE grants in selected states this fall. FFA members who wish to initiate or improve their supervised agricultural experiences (SAEs) can apply for an SAE grant. Grant recipients are selected by the SAE Grants Committee, and are based primarily on financial need.
"We appreciate that the goals and values of Perdue Farms and its Foundation align with FFA and that they see agricultural education and FFA as a critical part of their industry and company success," said Molly Ball, National FFA Foundation president. "We are thankful for support of our states and the SAE grants."
"At Perdue, we appreciate the important role that FFA plays in educating and encouraging the youth of our nation to explore careers in farming and agriculture," said Kim Nechay, executive director of the Perdue Foundation. "Investing in this program is a great way to help them meet their mission. We are honored to be a part of what they do."
At the local, state and national levels, FFA brings their mission to life for student members. Members gain experience in the areas of agricultural literacy and advocacy, agricultural knowledge, career exploration, leadership development, food security and service engagement.
About National FFA Organization
The National FFA Organization is a national youth organization of 649,355 student members as part of 7,859 local FFA chapters in all 50 states, Puerto Rico and the U.S. Virgin Islands. The organization is supported by 225,891 alumni members in 1,934 local FFA Alumni chapters throughout the U.S. The FFA mission is to make a positive difference in the lives of students by developing their potential for premier leadership, personal growth and career success through agricultural education. The National FFA Organization operates under a federal charter granted by the 81st United States Congress and it is an integral part of public instruction in agriculture. The U.S. Department of Education provides leadership and helps set direction for FFA as a service to state and local agricultural education programs. For more, visit the National FFA Organization online at FFA.org and on Facebook, Twitter and the official National FFA Organization blog.
About National FFA Foundation
The National FFA Foundation builds partnerships with industry, education, government, other foundations and individuals to secure financial resources that recognize FFA member achievements, develop student leaders and support the future of agricultural education. Governed by a 19-member board of trustees composed of educators, business leaders, individual donors and FFA Alumni, the foundation is a separately registered nonprofit organization. About 82 percent of every dollar received by the foundation supports FFA members and agricultural education opportunities. For more, visit FFA.org/Give.
About The Franklin P. and Arthur W. Perdue Foundation
The Franklin P. and Arthur W. Perdue Foundation, the charitable giving arm of Perdue Farms, was established in 1957 by company founder Arthur W. Perdue and is funded through the estates of Arthur W. Perdue and Frank Perdue. As part of our belief in supporting the communities where and with whom we do business, the Foundation provides grants on behalf of Perdue Farms in communities where large numbers of our associates live and work.
About Perdue Farms
We're a third-generation, family owned, U.S. food and agriculture company. Through our belief in responsible food and agriculture, we are empowering consumers, customers and farmers through trusted choices in products and services.
We focus on continuously improving everything we do, constantly learning, and sharing those insights across different production methods. That innovative approach is driving change throughout the company and onto farms. This continuous advancement is leading us toward our vision of becoming the most trusted name in food and agricultural products.
The PERDUE® brand is the number-one brand of fresh chicken in the U.S., and Perdue AgriBusiness is an international agricultural products and services company. As we approach our 100th anniversary in 2020, our path forward is about getting better, not just bigger. We never use drugs for growth promotion in raising poultry and livestock, and we are actively advancing our animal welfare programs. Our brands are leaders in no-antibiotics-ever chicken, turkey and pork, and in USDA-certified organic chicken. We've increased our support for the family farm by creating new markets, including specialty crops. Through agricultural services, we give farmers more options for the acre, including conversion to organic production and products and services that increase the sustainability of conventional agriculture. Learn more at www.perduefarms.com.