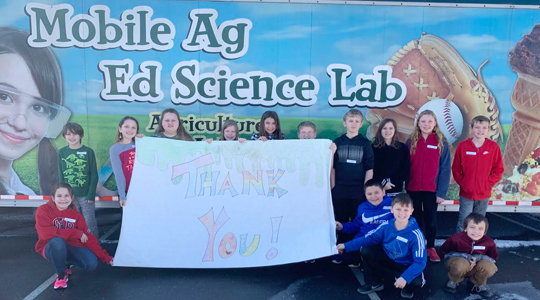 Perdue Farms Supports Pennsylvania Friends of Agriculture Foundation Mobile Agriculture Education Science Lab
$20,000 grant part of company's Delivering Hope To Our Neighbors® initiative
January 7, 2022
Salisbury, Md. (Friday, January 7, 2022) — As part of a commitment to educate the next generation about the importance of agriculture, Perdue Farms has renewed its support for Pennsylvania Friends of Agriculture Foundation's Mobile Agriculture Education Science Lab with a $20,000 grant funded through its Franklin P. and Arthur W. Perdue Foundation. The donation from Perdue's charitable giving arm is part of the company's Delivering Hope to Our Neighbors® initiative focused on improving quality of life and building strong communities.
"The Mobile Agriculture Education Science Lab program is a classroom on wheels that travels to schools in Pennsylvania providing agriculture-based education through interactive hands-on experiments, using lessons incorporating math, science and literacy," said Natalie Slembarski, Pennsylvania Friends of Agriculture Foundation director of operations.
The curriculum offers more than 30 STEM (Science, Technology, Engineering and Math)-based lessons that meet the Pennsylvania Department of Education's academic standards and are backed by the Pennsylvania Department of Agriculture.
"On our labs, students learn to hypothesize, work cooperatively, collect data, solve problems and draw conclusions," Slembarski said. "While on the lab you could find students making plastic out of corn; analyzing water to determine a contamination source; learning how to be an environmentally friendly farmer or making crayons from soybeans."
Each lab is stocked with more than 30 lessons and the supplies students need to perform experiments. Slembarski said the program's goal is to educate more children and communities and promote the significance of agriculture in daily life.
"To date, more than 1.4 million children in our communities have learned about agriculture in the foundation's Mobile Ag Ed Science Labs and we expect to reach an additional 100,000 students each year across Pennsylvania as the program continues to reach students who might otherwise have no connection to agriculture," Slembarski said.
"The Pennsylvania Friends of Agriculture Foundation believes that we must reach out to our communities to offer programs that educate on all agricultural commodities," she said, adding that students' before and after knowledge is evaluated to gauge the program's success and learn how to improve and expand it.
"We at Perdue are so excited to invest in this fun and educational opportunity for the community," said Kim Nechay, executive director of the Perdue Foundation. "STEM programs are so important for our young people and the promotion of agriculture through this mobile programming is just fantastic."
About the Pennsylvania Friends of Agriculture Foundation
Pennsylvania Friends of Agriculture Foundation is a charitable organization supported by the Pennsylvania Farm Bureau. The Foundation has been educating the public and promoting agriculture, the largest of the Commonwealth's industries since its inception in 1986.
About the Franklin P. and Arthur W. Perdue Foundation
The Franklin P. and Arthur W. Perdue Foundation, the charitable giving arm of Perdue Farms, was established in 1957 by company founder Arthur W. Perdue and is funded through the estates of Arthur W. Perdue and Frank Perdue. As part of our belief in supporting the communities where and with whom we do business, the Foundation provides grants on behalf of Perdue Farms in communities where large numbers of our associates live and work. At Perdue Farms, we believe in responsible food and agriculture®.
About Perdue Farms
We're a fourth-generation, family-owned, U.S. food and agriculture company. Through our belief in responsible food and agriculture, we are empowering consumers, customers, and farmers through trusted choices in products and services.
The premium protein portfolio within our Perdue Foods business, including our flagship PERDUE® brand, Niman Ranch®, Panorama Organic Grass-Fed Meats®, Coleman Natural®, and Yummy®, as well as our pet brands, Spot Farms® and Full Moon®, is available through various channels including retail, foodservice, club stores and our direct-to-consumer website, PerdueFarms.com. 
Perdue AgriBusiness is an international agricultural products and services company.  
Now in our company's second century, our path forward is about getting better, not just bigger. We never use drugs for growth promotion in raising poultry and livestock, and we are actively advancing our animal welfare programs. Our brands are leaders in no-antibiotics-ever chicken, turkey, pork, beef, and lamb, and in USDA-certified organic chicken and beef. Learn more at Corporate.PerdueFarms.com.