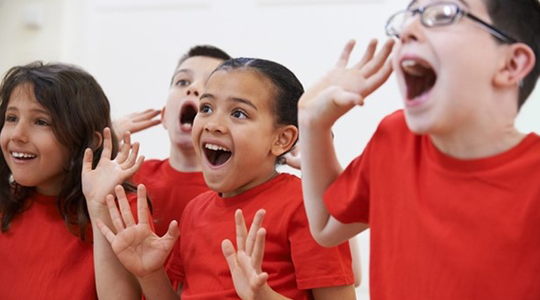 $37,000 in Perdue Foundation Grants Helps Three Boys & Girls Clubs After-School and Wellness Programs
November 7, 2022
Salisbury, Md. (Monday, November 7, 2022) — As part of a commitment to improve the quality of life in its communities, Perdue Farms is supporting three Boys & Girls Club of America organizations: Boys & Girls Clubs of Southeast Virginia, Boys & Girls Club of Cabarrus County, and Cliff Hagan Boys & Girls Club with $37,000 worth of grants funded through the Franklin P. and Arthur W. Perdue Foundation. These donations from Perdue's charitable giving arm are part of the company's Delivering Hope to Our Neighbors® initiative focused on improving quality of life and building strong communities.
Boys & Girls Club of America works with young people, especially those in need, to reach their full potential as productive, caring and responsible citizens. It provides a world-class club experience that emphasizes success is within their reach, they are on track to graduate from high school with a plan, and they demonstrate good character and citizenship and live a healthful lifestyle.
Boys & Girls Clubs of Southeast Virginia in Virginia Beach received a $5,000 grant to improve its health and wellness programs at the Eastern Shore club in Accomac. 
"At the Eastern Shore club, we run healthy lifestyle programming such as SMART (Skills Mastery and Resistance Training) Moves, SMART Girls, and Passport to Manhood," said Rebecca Myers, Boys & Girls Clubs of Southeast Virginia resource development manager.
"SMART Moves is a suite of targeted programs and other resources designed to help young people develop healthy decision-making attitudes and skills. SMART Girls is a small-group health, fitness, prevention/education, and self-esteem enhancement program designed to meet the developmental needs of girls in three age groups," she said. "Passport to Manhood promotes and teaches responsibility in club boys ages 8 to 17 and represents a targeted effort to engage young men in activities that reinforce positive behavior. The intended outcome for these programs is to help members increase their knowledge about healthy habits as they grow up and to provide them with the skills necessary to maintain their health. Thanks to Perdue Farms, this program anticipates serving 100 youth in Accomack County."
Located in Concord, North Carolina, Boys & Girls Clubs of Cabarrus County received $10,000 to support its after-school program's transportation costs.
"These generous funds from Perdue Farms will be used specifically for transportation," said Valerie Melton, Boys & Girls Club of Cabarrus County executive director. "We currently own a fleet of 12 buses which we use to transport children from 18 Cabarrus County schools to the club for our after-school program. We are currently serving about 400 children each day, but our facility has the space to serve around 700. The primary reason we cannot serve 700 children today is transportation.
"The challenges we face include the cost of purchasing quality buses, maintaining and fueling those buses and hiring drivers. The bottom line is that we cannot serve the children of Cabarrus County if we cannot get them to the club," she said. "The Franklin P. and Arthur W. Perdue Foundation's donation will make a tremendous impact in the lives of kids in Cabarrus County by supporting this initiative."
Cliff Hagan Boys & Girls Club – Ohio County Extension of Hartford, Kentucky, received a matching grant of $22,000 to support transportation costs.
"We have 75 members currently enrolled with an average of 40 to 50 in attendance each day and we hope to increase the amount of youth and families we serve in the 2022-2023 school year to over 100," said Steven Winkler, Cliff Hagan Boys & Girls Club CEO. "One way we will do this is through the purchase of a passenger van which will allow us to pick up children from at least two more schools in the Hartford and Fordsville areas. The van will allow us to transport more youth to and from our after-school program as some schools do not provide transportation to the club.
"The new van will also allow us to take club members on field trips and provide us with transportation to pick up snacks and supplies locally," he said. "We sincerely thank Perdue Farms for this generous grant."
Kim Nechay, executive director of the Perdue Foundation, applauds the work of these three Boys & Girls Club organizations.
"Boys & Girls Clubs are important assets in our communities," she said. "They provide valuable services to young people and Perdue is proud to support these programs."
About the Franklin P. and Arthur W. Perdue Foundation
The Franklin P. and Arthur W. Perdue Foundation, the charitable giving arm of Perdue Farms, was established in 1957 by company founder Arthur W. Perdue and is funded through the estates of Arthur W. Perdue and Frank Perdue. As part of our belief in supporting the communities where and with whom we do business, the Foundation provides grants on behalf of Perdue Farms in communities where large numbers of our associates live and work. At Perdue Farms, we believe in responsible food and agriculture®.
About Perdue Farms
We're a fourth-generation, family-owned, U.S. food and agriculture company. Through our belief in responsible food and agriculture, we are empowering consumers, customers, and farmers through trusted choices in products and services.
The premium protein portfolio within our Perdue Foods business, including our flagship PERDUE® brand, Niman Ranch®, Panorama Organic Grass-Fed Meats®, Coleman Natural®, and Yummy®, as well as our pet brands, Spot Farms® and Full Moon®, is available through various channels including retail, foodservice, club stores and our direct-to-consumer website, PerdueFarms.com. 
Perdue AgriBusiness is an international agricultural products and services company.  
Now in our company's second century, our path forward is about getting better, not just bigger. We never use drugs for growth promotion in raising poultry and livestock, and we are actively advancing our animal welfare programs. Our brands are leaders in no-antibiotics-ever chicken, turkey, pork, beef, and lamb, and in USDA-certified organic chicken and beef. Learn more at Corporate.PerdueFarms.com.