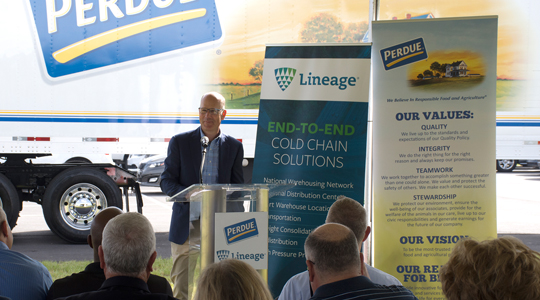 Perdue Foods Opens New Southeast Distribution Center in Georgia Creating More Than 150 New Jobs
September 5, 2018
SALISBURY, MD. (Wednesday, Sept. 5, 2018) — Perdue Foods has officially opened its new Southeast Distribution Center in Rincon, Ga. The new facility supports growing the Company's No-Antibiotics-Ever (NAE) and organic poultry products and will create new jobs.
The Perdue Southeast Distribution Center receives fresh packaged chicken products from Perdue plants which are weighed, priced and labeled, and shipped to customers. Perdue has invested $5 million and adds 100 new jobs in the new facility as part of a lease partnership with Lineage Logistics, one of the world's largest temperature-controlled supply chain and logistics providers. Lineage has also made a significant investment in facility and equipment improvements and adds 55 new warehouse jobs to support the project.
"Investments in the Southeast Distribution Center will enable us to meet the growing demand for no-antibiotics-ever and organic chicken and help us maintain the high level of customer service and reliability that customers expect from Perdue," said Mark McKay, president of Perdue Premium Poultry and Meats.
"Lineage has been a warehouse services provider to Perdue for more than two decades, and their investments in updated technology will help us better serve our Southeast customers," said McKay.
"We are honored Perdue chose Lineage as its warehouse partner for the weigh-price-label program," said Greg Lehmkuhl, president and CEO of Lineage Logistics. "Our decades-long partnership is indicative of our ongoing commitment to Perdue and its customers, and we look forward to supporting their operations in Rincon and beyond for many years to come."
"We appreciate Perdue Foods' powerful vote of confidence in Effingham County," said Brandt Herndon, CEO of Effingham Industrial Development Authority. "This is not just a celebration for the local economy but for the State of Georgia, also. We look forward to the growth of this partnership for years to come."
About Perdue Foods
The PERDUE® brand is the number-one brand of fresh chicken in the U.S., with a full lineup of no-antibiotics-ever products under the PERDUE®, PERDUE® SIMPLY SMART® and PERDUE® HARVESTLAND® brands, and USDA certified organic chicken the PERDUE® HARVESTLAND® Organic and PERDUE® SIMPLY SMART® Organic brands. We're recognized as the first to successfully market chicken by branding and advertising a product measurably superior to the competition, and we've been innovating ever since. All of our chickens are fed an all-vegetarian diet with no animal by-products. They're cared for in a clean, safe environment, and our programs are verified by the USDA. We've led the way in raising healthy poultry without antibiotics, and we're setting new standards for animal care. Learn more at www.perdue.com.
About Lineage Logistics, LLC
Lineage Logistics is the industry's leading innovator in temperature-controlled supply chain and logistics. Lineage's expertise in end-to-end logistical solutions, its unrivaled real estate network, and its use of technology combine to promote food safety, increase distribution efficiency, advance sustainability, lessen environmental impact, and minimize supply chain waste. As a result, Lineage helps customers ranging from Fortune 500 companies to small family-owned businesses increase the efficiency and protect the integrity of their temperature-controlled supply chain. Learn more at www.lineagelogistics.com.