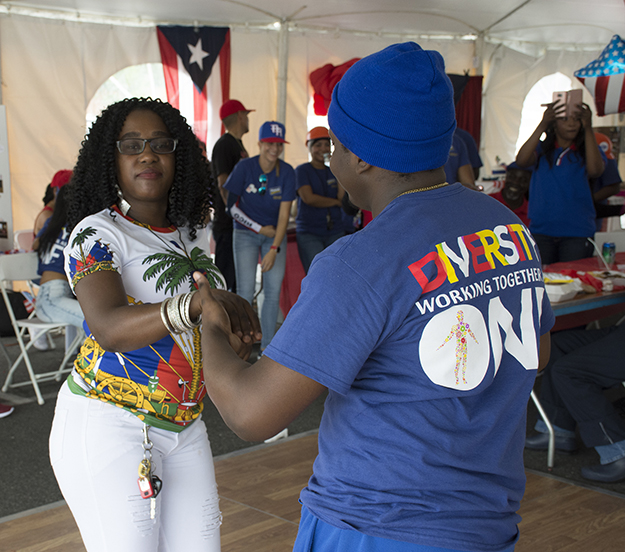 Perdue Named A "Best Employer For Diversity"
January 15, 2019
Salisbury, Md. (Tuesday, January 15, 2019) — Forbes has named Perdue Farms one of the "Best Employers for Diversity" for 2019.
The list, which Forbes released on Tuesday in partnership with online statistics firm Statista, is powered by an independent survey of more than 50,000 employees working for companies employing at least 1,000 people within the United States.  
"This recognition of our journey towards a more diverse workforce and inclusive workplace is a result of the commitment from our associates and leadership team," said Kelly Fladger, Perdue's Vice President of Human Resources Services and Chief Diversity and Inclusion Officer. "We are proud of our team and celebrate the unique talents and rich backgrounds of our associates that reflect the values and commitments of Perdue."
Perdue has established Diversity & Inclusion Councils within site operations and many locations hold annual "Diversity Days" to celebrate the diversity of languages, cultures and backgrounds of our associates.  In 2017, Chief Executive Officer Randy Day signed on to the CEO Action Forum for Diversity and Inclusion and in 2018 hosted the Company's first Diversity and Inclusion Forum with guest speaker and teen activist Marley Dias.
The survey included companies from all industry sectors. The 500 companies receiving the highest total scores were awarded as "Best Employers for Diversity 2019."
Using a representative sample of the U.S. workforce, recipients were asked to give their opinion on the topics of age, gender equality, ethnicity, disability, LGBTQ+ and general diversity concerning their own employer. Forbes also took into consideration the diversity among top executives, evaluations from employees at other companies, the existence of departments and positions responsible for diversity and the communication of diverse company culture.
To view the Forbes' list, click here.
About Perdue Farms
We're a fourth-generation, family owned, U.S. food and agriculture company. Through our belief in responsible food and agriculture, we are empowering consumers, customers and farmers through trusted choices in products and services.
The PERDUE® brand is the number-one brand of fresh chicken in the U.S., and the company is the leader in organic chicken in the U.S., and Perdue AgriBusiness is an international agricultural products and services company. As we approach our 100th anniversary in 2020, our path forward is about getting better, not just bigger. We never use drugs for growth promotion in raising poultry and livestock, and we are actively advancing our animal welfare programs. Our brands are leaders in no-antibiotics-ever chicken, turkey and pork, and in USDA-certified organic chicken. Learn more at www.perduefarms.com.