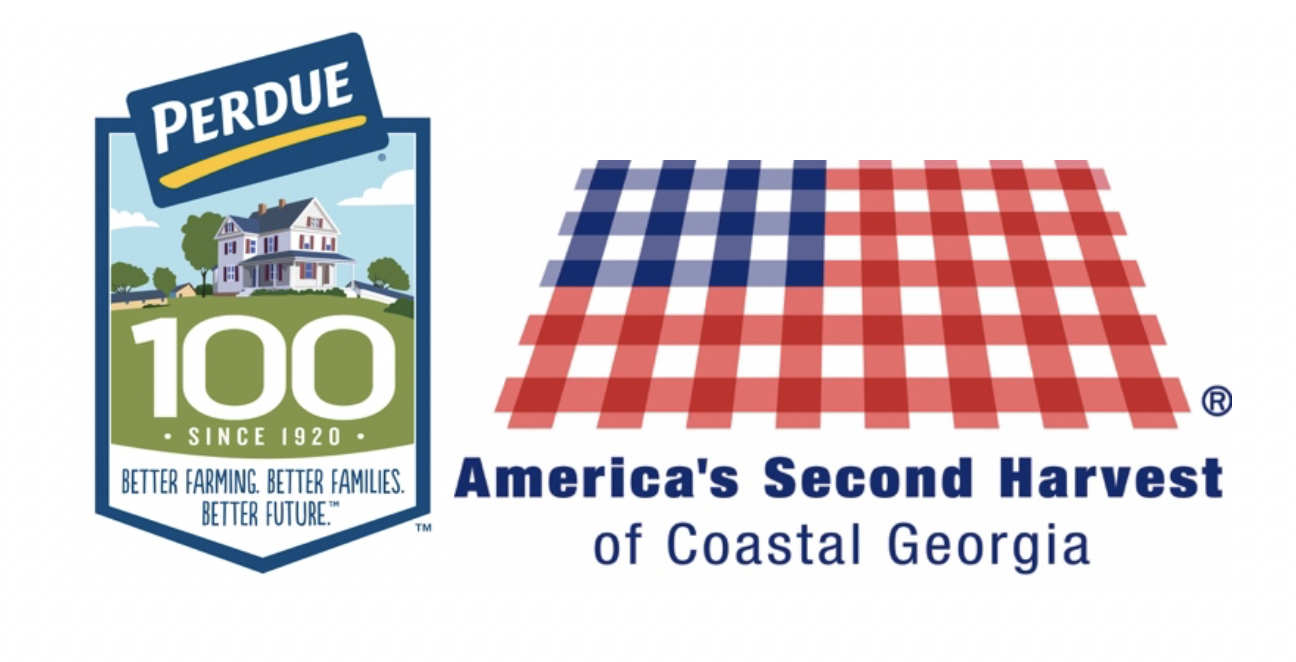 Perdue Foundation Awards $10,000 Grant To America's Second Harvest of Coastal Georgia to Help Feed Those In Need During Pandemic
May 21, 2020
Salisbury, MD (May 21, 2020) — The Franklin P. and Arthur W. Perdue Foundation, the charitable giving arm of Perdue Farms, has awarded a $10,000 grant to help America's Second Harvest of Coastal Georgia in Savannah feed individuals, families and seniors struggling amid the coronavirus pandemic. The grant aligns with Perdue's "Delivering Hope To Our Neighbors" hunger relief initiative.
Coastal Georgia food bank will use the funds to help feed some 6,500 individuals through its Mobile Pantry Program, which is designed to provide emergency food relief to rural residents who struggle to have enough to eat. Within the food bank's 21-county service area, one in six people struggles with hunger, including one in five children.
"Because of the generous Perdue Foundation donation, more people in our community will have access to healthy food, which is extremely critical during these times of uncertainty," said Mary Jane Crouch, executive director of Coastal Georgia food bank.
"In coastal Georgia, there are 141,000 people who are at risk for hunger during normal times, but with the COVID-19 pandemic, that number will likely double and even triple. We are witnessing lines of 1,000 vehicles at a time with people waiting to receive food, many spending the night in their vehicles, so they are able to be served," said Crouch.
As Kim Nechay, executive director of the Perdue Foundation, explains, "We continue to see an alarming increase in need in our communities as a result of economic instability brought on by COVID-19, including the basic need to put food on the table. We're hopeful that providing this financial support will bring some level of comfort to our neighbors in need in coastal Georgia."
Perdue Farms employees more than 2,400 associates in Georgia, including about 100 people who work at the company's Southeast Distribution Center in Rincon in Effingham County.
About America's Second Harvest of Coastal Georgia, Inc.
America's Second Harvest of Coastal Georgia serves as a regional food bank, functioning as the food warehouse and distribution center to more than 300 non-profit organizations and churches in our area. Through food relief programs and collaboration with partner agencies, America's Second Harvest distributed more than 19.4 million pounds of food last year to people in need in our community – children, senior citizens, people with disabilities, people experiencing homelessness and others whose incomes are insufficient to meet their basic needs. To learn more about how we are leading the effort to end hunger and improve lives in our community, call (912) 236-6750 or visit www.helpendhunger.org.
About the Franklin P. and Arthur W. Perdue Foundation
The Franklin P. and Arthur W. Perdue Foundation, the charitable giving arm of Perdue Farms, was established in 1957 by company founder Arthur W. Perdue and is funded through the estates of Arthur W. Perdue and Frank Perdue. As part of our belief in supporting the communities where and with whom we do business, the Foundation provides grants on behalf of Perdue Farms in communities where large numbers of our associates live and work. At Perdue Farms, we believe in responsible food and agriculture®.
About Perdue Farms
We're a fourth-generation, family owned, U.S. food and agriculture company. Through our belief in responsible food and agriculture, we are empowering consumers, customers and farmers through trusted choices in products and services.
The PERDUE® brand is the number-one brand of fresh chicken in the U.S., and the company is the leader in organic chicken in the U.S., and Perdue AgriBusiness is an international agricultural products and services company. Now in our centennial year, our path forward is about getting better, not just bigger. We never use drugs for growth promotion in raising poultry and livestock, and we are actively advancing our animal welfare programs. Our brands are leaders in no-antibiotics-ever chicken, turkey and pork, and in USDA-certified organic chicken. Learn more at corporate.perduefarms.com.