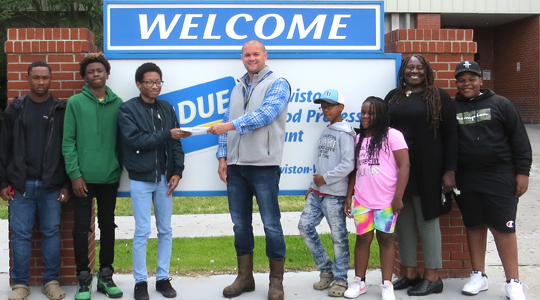 Perdue Foundation Awards $18,000 Grant to Bertie County Hive House in Eastern North Carolina
Funds help students improve reading and math skills in summer tutoring program
August 3, 2021
Salisbury, Md. (Tuesday, August 3, 2021) — Perdue Farms, through its Franklin P. and Arthur W. Perdue Foundation, has awarded an $18,000 grant to help Bertie County Hive House hire certified teachers for its summer tutoring program. The program aims to help K-8 students who have struggled amid the pandemic improve their reading and math skills heading into the 2021-2022 school year. 
Bertie County Hive House is a trusted hub of resources for residents of Lewiston-Woodville and western Bertie County, serving at-risk children, youth, and families since 2009. It provides afterschool programs for elementary and middle school students, nutrition and wellness programs for seniors, a food pantry, hot meals, and internet access for job seekers.
"We are helping address the serious loss of academic achievement of students who were already below grade proficiency before the COVID-19 pandemic and school closures," said Vivian Saunders, Bertie County Hive House executive director. "The Hive House will employ certified teachers to work one-on-one with K-8 students in reading and math during a summer learning program. With social distancing enforced, these tutors will use evidence-based learning tools to jump-start learning and engagement in anticipation of schools reopening full time."
Bertie County Hive House officials hope that reading and math achievement will increase students' confidence and motivation to stay in school and work towards graduation.
"Success in improvement in reading skills will be measured by monitoring each student's pretest and post-test scores," Saunders said. "Increased engagement in school and learning will be accomplished by teacher-led, hands-on learning experiences that will be planned by the newly hired certified teacher tutors in advance of and during the summer program. Success will be measured through tutor observations, attendance and student discussions."
Kim Nechay, executive director of the Perdue Foundation, said: "Perdue Farms is very happy to provide assistance to Bertie County Hive House's goal to provide students who are struggling in reading and math, and give them the skills and confidence needed to be successful in the classroom."
About the Franklin P. and Arthur W. Perdue Foundation
The Franklin P. and Arthur W. Perdue Foundation, the charitable giving arm of Perdue Farms, was established in 1957 by company founder Arthur W. Perdue and is funded through the estates of Arthur W. Perdue and Frank Perdue. As part of our belief in supporting the communities where and with whom we do business, the Foundation provides grants on behalf of Perdue Farms in communities where large numbers of our associates live and work. At Perdue Farms, we believe in responsible food and agriculture®.
About Perdue Farms
We're a fourth-generation, family owned, U.S. food and agriculture company. Through our belief in responsible food and agriculture, we are empowering consumers, customers, and farmers through trusted choices in products and services.
The premium protein portfolio within our Perdue Foods business, including our flagship PERDUE® brand, Niman Ranch®, Panorama Organic Grass-Fed Meats®, Coleman Natural®, and Yummy®, as well as our pet brands, Spot Farms® and Full Moon®, is available through various channels including retail, foodservice, club stores, and our direct-to-consumer website, PerdueFarms.com. 
Perdue AgriBusiness is an international agricultural products and services company.  
Now in our company's second century, our path forward is about getting better, not just bigger. We never use drugs for growth promotion in raising poultry and livestock, and we are actively advancing our animal welfare programs. Our brands are leaders in no-antibiotics-ever chicken, turkey, pork, beef and lamb, and in USDA-certified organic chicken and beef. Learn more at Corporate.PerdueFarms.com.