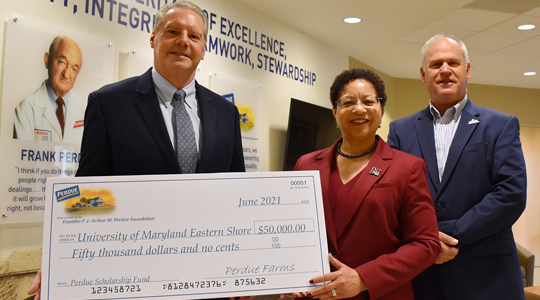 Perdue Foundation awards $50,000 to University of Maryland Eastern Shore
Funds will provide support for student scholarships via Perdue Scholarship Fund
July 8, 2021
PRINCESS ANNE, Md. (July 8, 2021) — Perdue Farms, through its Franklin P. and Arthur W. Perdue Foundation, has awarded a $50,000 grant to the University of Maryland Eastern Shore (UMES) to provide support for student scholarships. UMES is a public historically black land-grant research university.
"These scholarships would support students studying agriculture, business, construction management technology, hospitality and tourism, engineering, and more," said David Balcom, University of Maryland Eastern Shore vice president for university relations. "Perdue scholars will pursue their degrees in their chosen field, and many will also help to advance research in areas such as food science and technology innovation."
University of Maryland Eastern Shore Perdue Scholarships will be awarded to students of outstanding character with a grade point average of 2.5 or higher and will help students complete their degrees, minimize student debt, and advance their careers.
"Graduating an ever-increasing number of students will produce promising new employees for private industry and help to stimulate the economy both on and off the Eastern Shore," said Balcom. "A number of these students will also be engaged in research initiatives helping to advance knowledge and create new innovation benefiting private industry and the general welfare."
Many UMES undergraduate students are the first in their families to attend college and half are unable to afford tuition, which makes scholarship support like that from the Perdue Foundation the highest priority for the university.
"Perdue Farms is very happy and honored to provide assistance towards the creation of the UMES Perdue Scholarships," said Kim Nechay, executive director of the Perdue Foundation. "We hope these scholarships will help to attract new students, retain them and ultimately graduate them."
About the University of Maryland Eastern Shore
The University of Maryland Eastern Shore, founded in 1886, is a historically black, Carnegie-classified doctoral research, land-grant institution offering more than 90 academic programs and concentrations leading to degrees from the baccalaureate to the doctorate.  UMES provides affordable access to higher education while developing innovative technology and research in key fields like agriculture, science, pharmacy and engineering.  For more information, visit www.umes.edu.

About the Franklin P. and Arthur W. Perdue Foundation
The Franklin P. and Arthur W. Perdue Foundation, the charitable giving arm of Perdue Farms, was established in 1957 by company founder Arthur W. Perdue and is funded through the estates of Arthur W. Perdue and Frank Perdue. As part of our belief in supporting the communities where and with whom we do business, the Foundation provides grants on behalf of Perdue Farms in communities where large numbers of our associates live and work. At Perdue Farms, we believe in responsible food and agriculture®.
About Perdue Farms
We're a fourth-generation, family owned, U.S. food and agriculture company. Through our belief in responsible food and agriculture, we are empowering consumers, customers, and farmers through trusted choices in products and services.
The premium protein portfolio within our Perdue Foods business, including our flagship PERDUE® brand, Niman Ranch®, Panorama Organic Grass-Fed Meats®, Coleman Natural®, and Yummy®, as well as our pet brands, Spot Farms® and Full Moon®, is available through various channels including retail, foodservice, club stores, and our direct-to-consumer website, PerdueFarms.com. 
Perdue AgriBusiness is an international agricultural products and services company.  
Now in our company's second century, our path forward is about getting better, not just bigger. We never use drugs for growth promotion in raising poultry and livestock, and we are actively advancing our animal welfare programs. Our brands are leaders in no-antibiotics-ever chicken, turkey, pork, beef and lamb, and in USDA-certified organic chicken and beef. Learn more at Corporate.PerdueFarms.com.