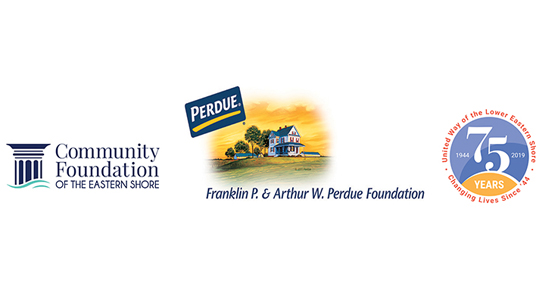 $40,000 Perdue Foundation Gift Supports Emergency Pandemic Relief Efforts on Maryland's Lower Eastern Shore
Grants to Bolster Work of the United Way of the Lower Eastern Shore and the Community Foundation of the Eastern Shore
April 9, 2020
Salisbury, Md. (April 9, 2020) — Perdue Farms, through the Franklin P. and Arthur W. Perdue Foundation, has donated $40,000 to support emergency pandemic relief efforts by the United Way of the Lower Eastern Shore and the Community Foundation of the Eastern Shore. The funds have been made available in light of the COVID-19 virus and its impacts in and around Perdue's hometown community on Maryland's Eastern Shore.
The Community Foundation of the Eastern Shore (CFES) and the United Way of the Lower Eastern Shore (UWLES) are supporting immediate and long-term relief efforts within their local communities. These resources will help ensure critical programs and services—including hunger relief, transitional housing, housing assistance, medical services and more—can be fulfilled during a time of increased need. 
"COVID-19 and its rippling effects are absolutely devastating to witness. But there are bright spots in this gloom when you look to organizations like CFES and UWLES," said Kim Nechay, executive director of the Perdue Foundation. "We at Perdue are proud to invest in their efforts to collaborate and assure that our friends and neighbors in need during this global crisis will have resources."
CFES and UWLES are already seeing increased demand for their services and financial resources to support local efforts. "The pandemic is going to have long-term and extremely challenging implications for many local nonprofits. By getting immediate relief to these organizations, we hope to offset a portion of their hardship, and enable them to continue to meet vital needs in our community," says Erica Joseph, CFES president. "If there ever was a time to 'give where you live' the time and the need are now."
The Perdue Foundation gift will provide much needed resources to help the resilient Lower Eastern Shore community meet community needs during a challenging time. "We know that the Perdue Foundation and the Perdue Farms family is working very hard to meet the needs of the communities where associates live, work and play, not just financially but also through gifts of proteins," said Stacey McMichael, United Way of the Lower Eastern Shore's resource development manager. "As a Perdue partner for over 60 years, we are blessed to be able to steward those dollars throughout our counties here on the Lower Shore."
About the Community Foundation of the Eastern Shore
As leaders, grant makers, and stewards of philanthropy, the Community Foundation of the Eastern Shore connects people who care to causes that matter for the common good of the Lower Eastern Shore.  We are a 501c3 nonprofit with an inspiring history of fostering charitable endeavors, and have provided $84 million in grants and scholarships to the local community since 1984. We collaborate with individuals, families, and businesses to match their charitable interests with community needs and strengthen local nonprofits through grants and resources. We are devoted to improving our regional community and believe in the power of philanthropy.  
About the United Way of the Lower Eastern Shore
United Way of the Lower Eastern Shore, now in its 75th year, serves all communities in Dorchester, Somerset, Wicomico and Worcester counties. United Way helps Lower Shore residents obtain Educational Success by reducing the achievement gap between low- and middle-income students, Financial Stability by advancing the economic security of families and individuals, and Good Health by improving access to and awareness of local health and wellness services. United Way collaborates with organizations and stakeholders to strengthen our community, and currently provides over $1.6 million in support of 80 programs and community initiatives, impacting one in every three individuals on the Lower Shore. 
About the Franklin P. and Arthur W. Perdue Foundation
The Franklin P. and Arthur W. Perdue Foundation, the charitable giving arm of Perdue Farms, was established in 1957 by company founder Arthur W. Perdue and is funded through the estates of Arthur W. Perdue and Frank Perdue. As part of our belief in supporting the communities where and with whom we do business, the Foundation provides grants on behalf of Perdue Farms in communities where large numbers of our associates live and work. At Perdue Farms, we believe in responsible food and agriculture®.
About Perdue Farms
We're a fourth-generation, family owned, U.S. food and agriculture company. Through our belief in responsible food and agriculture, we are empowering consumers, customers and farmers through trusted choices in products and services.
The PERDUE® brand is the number-one brand of fresh chicken in the U.S., and the company is the leader in organic chicken in the U.S., and Perdue AgriBusiness is an international agricultural products and services company. Now in our centennial year, our path forward is about getting better, not just bigger. We never use drugs for growth promotion in raising poultry and livestock, and we are actively advancing our animal welfare programs. Our brands are leaders in no-antibiotics-ever chicken, turkey and pork, and in USDA-certified organic chicken. Learn more at corporate.perdufarms.com.