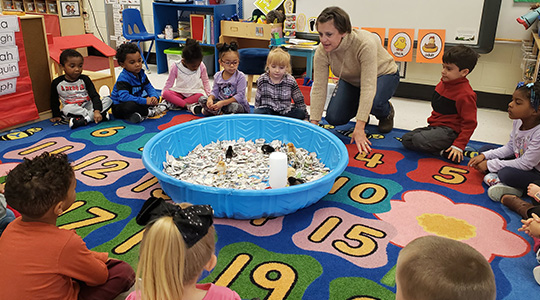 $5,000 Perdue Foundation Grant Helps Fund Agriculture in the Classroom Curriculum in Virginia
January 23, 2023
Salisbury, Md. (Monday, January 23, 2023) — As part of a commitment to help the next generation understand the importance of agriculture, Perdue Farms has awarded a $5,000 grant to Agriculture in the Classroom in Virginia through the Franklin P. and Arthur W. Perdue Foundation. The donation from Perdue's charitable giving arm is part of the company's Delivering Hope to Our Neighbors® outreach to improve quality of life and build strong communities.
"Agriculture in the Classroom's latest project, Ag 24/7, seeks to educate students and the nonfarming public about the many ways their lives are touched each day by agricultural products and by-products," said Tammy Maxey, executive director for the Virginia Foundation for Agriculture in the Classroom. "Through this project, children will not only understand that most of life's necessities can be traced back to the farm but will also gain knowledge on the modern farming practices that make it possible to feed the world."
Maxey said the grant would be used to design a poster and produce a video that show the impact of Virginia's poultry industry and facts about poultry farming.
"One of AITC's goals is to emphasize the impact on the communities where Perdue's employees work and live on Virginia's Eastern Shore and in Rockingham County," she explained. "In our 2020-2021 fiscal year, AITC reached more 1 million children in Virginia with our educational resources. This fiscal year, AITC has committed to connecting 100 percent of Virginia's children to agriculture."
Kim Nechay, executive director of the Perdue Foundation, said Agriculture in the Classroom provides important information.
"As part of our ongoing commitment to education, Perdue is thrilled to continue to help Virginia schools reach students through the Ag in the Classroom curriculum," said Nechay. "It brings a unique opportunity to expose students to the importance of agriculture, including understanding about where much of our food comes from and the industry's impact in the region."
About the Franklin P. and Arthur W. Perdue Foundation
The Franklin P. and Arthur W. Perdue Foundation, the charitable giving arm of Perdue Farms, was established in 1957 by company founder Arthur W. Perdue and is funded through the estates of Arthur W. Perdue and Frank Perdue. As part of our belief in supporting the communities where and with whom we do business, the Foundation provides grants on behalf of Perdue Farms in communities where large numbers of our associates live and work. At Perdue Farms, we believe in responsible food and agriculture®.
About Perdue Farms
We're a fourth-generation, family-owned, U.S. food and agriculture company. Through our belief in responsible food and agriculture, we are empowering consumers, customers, and farmers through trusted choices in products and services.
The premium protein portfolio within our Perdue Foods business, including our flagship PERDUE® brand, Niman Ranch®, Panorama Organic Grass-Fed Meats®, Coleman Natural®, and Yummy®, as well as our pet brands, Spot Farms® and Full Moon®, is available through various channels including retail, foodservice, club stores and our direct-to-consumer website, PerdueFarms.com. 
Perdue AgriBusiness is an international agricultural products and services company.  
Now in our company's second century, our path forward is about getting better, not just bigger. We never use drugs for growth promotion in raising poultry and livestock, and we are actively advancing our animal welfare programs. Our brands are leaders in no-antibiotics-ever chicken, turkey, pork, beef, and lamb, and in USDA-certified organic chicken and beef. Learn more at Corporate.PerdueFarms.com.