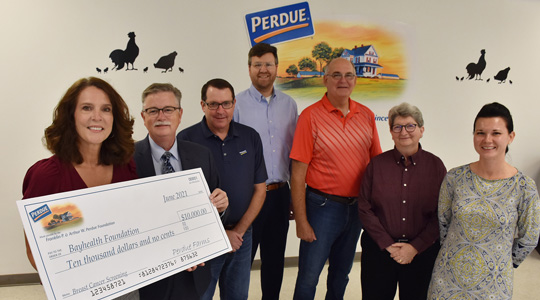 Perdue Foundation Supports Bayhealth Breast Cancer Screening Program
$10,000 Grant to Help Underserved Women in Delaware
July 7, 2021
SALISBURY, MD. (Wednesday, June 7, 2021) — As part of a commitment to improve quality of life in the communities it serves, Perdue Farms is helping the Bayhealth Foundation provide underserved Delaware women access to breast cancer screening and education through a $10,000 grant funded by the Franklin P. and Arthur W. Perdue Foundation. The Perdue Foundation is the charitable giving arm of Perdue Farms.
"Part of our mission is making sure everyone in our community has access to screenings, which play a role in lifelong health and early detection of cancer," said Bayhealth Cancer Institute Manager Stephanie McClellan. "Our breast cancer screening program, which is designed especially for underserved populations, is a cornerstone of this mission. We're very grateful to Perdue, as the grant they awarded us will be used to assist our efforts related to off-site screenings for those who are best served by this option."
Bayhealth Foundation President Lindsay Rhodenbaugh also acknowledged what the grant means not only to Bayhealth but to the community. "Perdue's generous award will help us ensure women in Delaware, no matter what their circumstances, receive the breast cancer screenings they need for their overall health and wellness."
"Early detection is one of the most vital issues in fighting breast cancer," said Senior Director of Perdue Healthworks® Dawn Carey. "At Perdue, we educate associates on early detection of breast cancer through self-examinations and intervention programs provided by our network of onsite Wellness Centers staffed by healthcare professionals. Thanks to the commitment of early detection, screening
and education programs provided by organizations like Bayhealth, the survival rate is improving for many Delawareans. It's because of the resources of the Perdue Foundation that enables us to continue to have a positive impact like this in the communities where Perdue associates live and work."
Bayhealth's breast cancer screening program offers clinical breast exams and mammograms to the community, with a focus on those who are uninsured or underinsured or who don't have access to screenings such as Spanish speaking workers and other underserved women in central and southern Delaware. Visit Bayhealth.org/Breast-Screenings or call 302-744-6562 to learn more.
About Bayhealth
Bayhealth's mission is to strengthen the health of our community, one life at a time. As central and southern Delaware's largest healthcare system, Bayhealth is comprises Bayhealth Hospital, Kent Campus and Bayhealth Hospital, Sussex Campus, the freestanding Emergency Department in Smyrna as well as numerous satellite facilities and employed physician practices encompassing a variety of specialties. Bayhealth is a technologically advanced not-for-profit healthcare system with more than 4,000 employees and a medical staff of more than 400 physicians. Bayhealth is an affiliate of Penn Medicine for Heart and Vascular, Cancer and Orthopaedics. In Fiscal Year 2020, Bayhealth recorded 96,820 emergency department visits, 18,574 patients admitted to beds, 2,241 births, and provided $68.16 million in unreimbursed care to patients. Visit Bayhealth.org for more information.
About the Franklin P. and Arthur W. Perdue Foundation
The Franklin P. and Arthur W. Perdue Foundation, the charitable giving arm of Perdue Farms, was established in 1957 by company founder Arthur W. Perdue and is funded through the estates of Arthur W. Perdue and Frank Perdue. As part of our belief in supporting the communities where and with whom we do business, the Foundation provides grants on behalf of Perdue Farms in communities where large numbers of our associates live and work. At Perdue Farms, we believe in responsible food and agriculture®.
About Perdue Farms
We're a fourth-generation, family owned, U.S. food and agriculture company. Through our belief in responsible food and agriculture, we are empowering consumers, customers, and farmers through trusted choices in products and services.
The premium protein portfolio within our Perdue Foods business, including our flagship PERDUE® brand, Niman Ranch®, Panorama Organic Grass-Fed Meats®, Coleman Natural®, and Yummy®, as well as our pet brands, Spot Farms® and Full Moon®, is available through various channels including retail, foodservice, club stores, and our direct-to-consumer website, PerdueFarms.com. 
Perdue AgriBusiness is an international agricultural products and services company.  
Now in our company's second century, our path forward is about getting better, not just bigger. We never use drugs for growth promotion in raising poultry and livestock, and we are actively advancing our animal welfare programs. Our brands are leaders in no-antibiotics-ever chicken, turkey, pork, beef and lamb, and in USDA-certified organic chicken and beef. Learn more at Corporate.PerdueFarms.com.