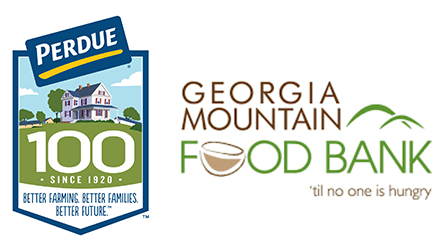 Perdue Foundation Donates $5,000 for Georgia Mountain Food Bank's Fresh Grocery Delivery Program
Program delivers nutritious food to schoolchildren
February 3, 2020
Salisbury, Md. (Monday, February 3, 2020) — Perdue Farms, through the Franklin P. and Arthur W. Perdue Foundation, has provided a $5,000 grant to Georgia Mountain Food Bank's Fresh Grocery Delivery Program to purchase and deliver fresh nutritious food for schoolchildren in need. The donation is part of Perdue's "Delivering Hope to Our Neighbors™" hunger relief initiative to provide access to nutritious protein for people struggling with hunger and make meaningful progress toward ending hunger.
Through the Gainesville, Ga.,-based food bank's Fresh Grocery Delivery Program, more than 36,000 pounds of fruit and vegetables are delivered annually to about 510 children during school hours to take home to their siblings and family.
The program educates children and families about better food choices, aiming to make a long-term difference in their lives.
"Funds from the grant support our day-to-day operations enabling us to get the food out to low-income individuals.  It takes a collaborative effort of funds and volunteers for us to get the food to those in need.  It's a real community effort." said Kay Blackstock, Georgia Mountain Food Bank executive director.
Since the Georgia Mountain Food Bank began in 2008, 33 million meals have been delivered to those in need.
"It's quite an honor to have the support of the Perdue Foundation and for them to assist in us fulfilling our mission.  We're impacting lives together," said Blackstock.
"We are delighted to support Georgia Mountain Food Bank's Fresh Grocery Delivery Program with this critical grant. The food bank works tirelessly to identify communities that need help the most and we are happy to partner with them to get these communities fresh nutritious food. This grant will ensure they can acquire and deliver additional foods to our neighbors in need," said Tonia Snow, Perdue human resources director in Gainesville, Ga.   
One in four children faces hunger in Georgia and as they struggle, $160 billion worth of food is wasted annually in the United States, according to the U.S. Department of Agriculture, including fresh fruits and vegetables that children need to maintain their health.
About Georgia Mountain Food Bank
Georgia Mountain Food Bank's mission is to address hunger, health and quality of life by serving those in need. An affiliate of Atlanta Community Food Bank, it provides a vital link between sources of food and community-based partner agencies that help get the food to families and individuals in need. www.gamountainfoodbank.org
About the Franklin P. and Arthur W. Perdue Foundation
The Franklin P. and Arthur W. Perdue Foundation, the charitable giving arm of Perdue Farms, was established in 1957 by company founder Arthur W. Perdue and is funded through the estates of Arthur W. Perdue and Frank Perdue. As part of our belief in supporting the communities where and with whom we do business, the Foundation provides grants on behalf of Perdue Farms in communities where large numbers of our associates live and work. At Perdue Farms, we believe in responsible food and agriculture®.
About Perdue Farms
We're a fourth-generation, family owned, U.S. food and agriculture company. Through our belief in responsible food and agriculture, we are empowering consumers, customers and farmers through trusted choices in products and services.
The PERDUE® brand is the number-one brand of fresh chicken in the U.S., and the company is the leader in organic chicken in the U.S., and Perdue AgriBusiness is an international agricultural products and services company. Now in our centennial year, our path forward is about getting better, not just bigger. We never use drugs for growth promotion in raising poultry and livestock, and we are actively advancing our animal welfare programs. Our brands are leaders in no-antibiotics-ever chicken, turkey and pork, and in USDA-certified organic chicken. Learn more at www.perduefarms.com.