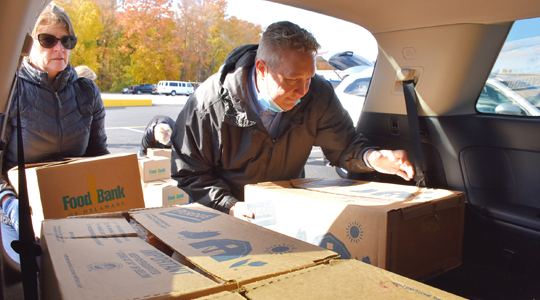 Perdue Joins Food Bank of Delaware and Harry K Foundation to Deliver 450 Thanksgiving Meals to Food Insecure Families
Part of Company's 'Delivering Hope To Our Neighbors®' Initiative
November 16, 2021
SALISBURY, MD. (Tuesday, November 16, 2021) — As part of a shared commitment to help food insecure Delawareans, Perdue Farms and the Harry K Foundation, in partnership with the Food Bank of Delaware, distributed more than 450 "Thanksgiving for All" meal boxes and Perdue chicken roasters to schools supported year-round by the Harry K Foundation.
Perdue's support is part of the company's "Delivering Hope To Our Neighbors®" initiative focused, in part, on hunger relief and improving quality of life and building strong communities where its associates live and work and beyond.
In Delaware, 114,190 people are facing hunger, including one in six children, according to Food Bank of Delaware data.
"It's hard to comprehend how many people in Delaware, including children, go hungry on a daily basis," said Harry Keswani, founder of the Harry K Foundation, whose mission is to end childhood hunger in the First State. "We're proud to partner again with the Food Bank of Delaware and Perdue Farms to brighten the Thanksgiving season, especially as families continue to struggle."
Perdue and Harry K Foundation volunteers helped pack and load the food boxes and chicken into school officials' cars, who picked up the boxes at the Food Bank of Delaware's Milford branch. Boxes were filled with all the traditional holiday meal staples, including stuffing, mash potatoes, gravy, canned vegetables, pumpkin, pie crust, a roasting pan and more. A Perdue chicken roaster completed the holiday meal.
"Far too many families in our community struggle to make ends meet. No family deserves to go without a hot holiday meal," said Food Bank of Delaware president and CEO Cathy Kanefsky. "Thanks to partners like Perdue Farms and the Harry K Foundation, we are able to deliver a little hope to our neighbors."
As Nathan Bryner, complex human resources manager at Perdue operations in Milford, explains, "It means so much to us at Perdue to join the Food Bank of Delaware and the Harry K Foundation again this year to provide holiday meals for Delaware families who may not have had one without our help. That is the true meaning of giving back in our community."
To learn more about how Perdue Farms is Delivering Hope To Our Neighbors®, visit this link.
About Perdue Farms
We're a fourth-generation, family-owned, U.S. food and agriculture company. Through our belief in responsible food and agriculture, we are empowering consumers, customers, and farmers through trusted choices in products and services.
The premium protein portfolio within our Perdue Foods business, including our flagship PERDUE® brand, Niman Ranch®, Panorama Organic Grass-Fed Meats®, Coleman Natural®, and Yummy®, as well as our pet brands, Spot Farms® and Full Moon®, is available through various channels including retail, foodservice, club stores, and our direct-to-consumer website, PerdueFarms.com. 
Perdue AgriBusiness is an international agricultural products and services company.  
Now in our company's second century, our path forward is about getting better, not just bigger. We never use drugs for growth promotion in raising poultry and livestock, and we are actively advancing our animal welfare programs. Our brands are leaders in no-antibiotics-ever chicken, turkey, pork, beef and lamb, and in USDA-certified organic chicken and beef. Learn more at Corporate.PerdueFarms.com.
About the Food Bank of Delaware
The Food Bank of Delaware distributes millions of pounds of food each year to its network of 577 hunger-relief partners throughout the state and also provides thousands of meals a month for children at risk of weekend hunger through the Backpack Program. The Food Bank of Delaware provides community outreach through the Supplemental Nutrition Assistance Program (SNAP) and the Special Supplemental Nutrition Program for Women Infants and Children (WIC). Financial literacy coaching through $tand By Me and nutrition education are also offered to empower Delawareans. Delaware Food Works, a workforce development initiative of the Food Bank of Delaware, provides training for adults interested in careers in the food service industry and warehousing/logistics. For more information about the Food Bank of Delaware, visit www.fbd.org or call (302) 292-1305.