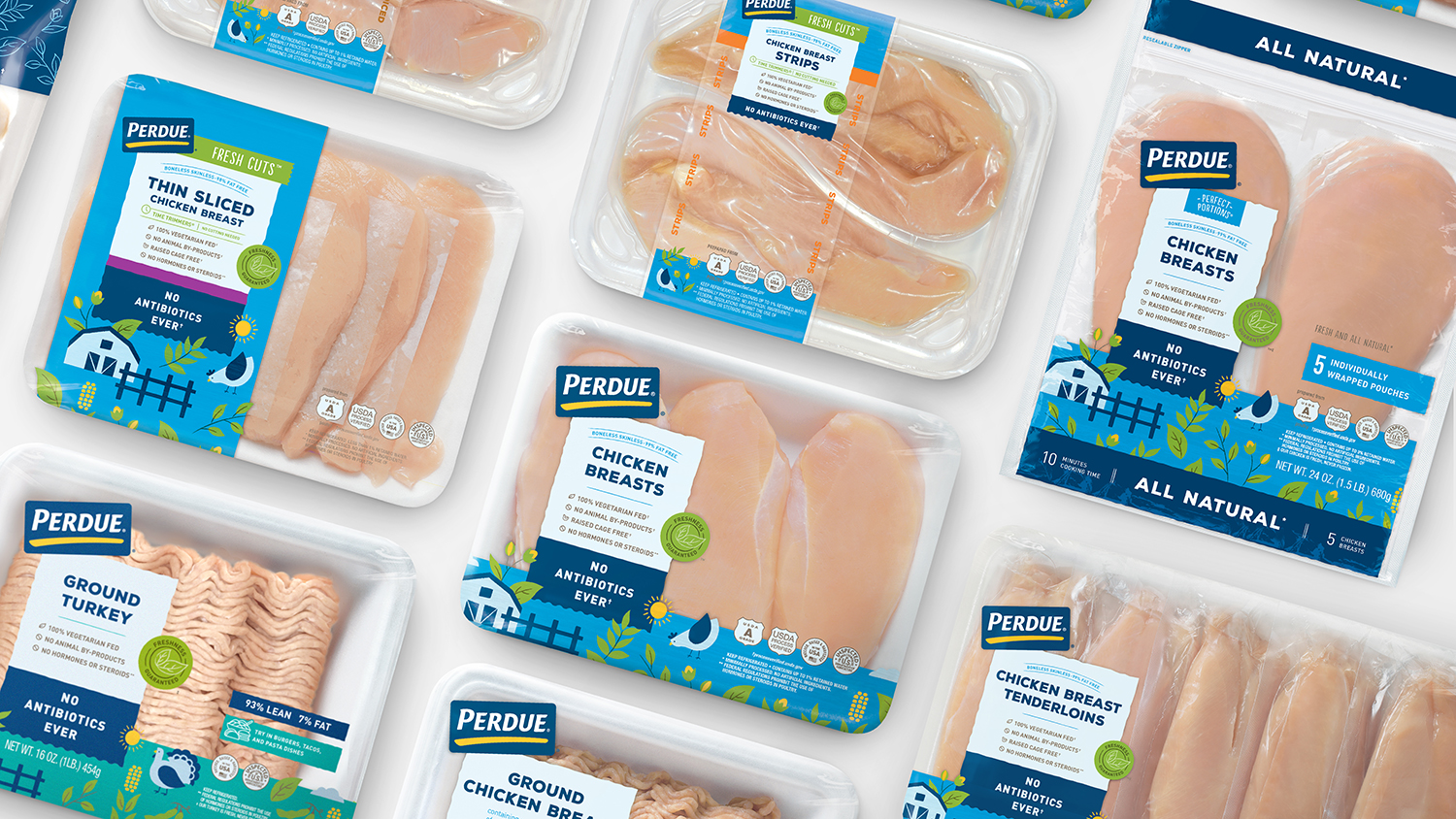 Out with The Old, In with the New (Packaging)
By Eric Christianson, Chief Marketing Officer, Perdue
December 31, 2018
It's a New Year, and by now, our new PERDUE® brand fresh chicken packaging has replaced our "old" look at your local grocery store. Now, when you pick up a package of our PERDUE® fresh chicken at the store, you can see what we've been so excited about since announcing the new design a few months ago. The contemporary graphics, with playful illustrations and vibrant colors, stand out in a sea of look-alike packaging. The new packaging also better highlights trusted product attributes, including no antibiotics ever, 100-percent vegetarian-fed with no animal by-products and raised cage-free with no hormones or steroids.*
Why the new look? In large part because there's a new generation of shoppers. Working for Perdue is an honor, but often when I would tell people the first thing they would say would be, "Wow! My grandmother loves Perdue. She used to love that Frank guy."
Of course, Frank is Frank Perdue, who appeared in our TV commercials from 1970 until the mid-nineties, when his son Jim took over as advertising spokesperson. Now, Jim's sons, Chris and Ryan, are in our advertising with their father. Our packaging is following the same generational shift. The new packaging was specifically designed with the millennial in mind; we needed to connect with them and inspire them. We want them to become loyal consumers as they continue to grow their families.
But there's a good reason packaging design doesn't change as often as cars or clothing: a brand represents consistency. The PERDUE® brand is an ongoing promise of quality from a family name people trust. Packaging becomes familiar and recognizable; we know our favorite brand and products at a glance.
So, we had to also keep – and strengthen – the relationship with our loyal brand consumers. It took months and months of work and testing to find the right combination. More than 65 percent of overall participants surveyed in a brand consumer test favored the new design and millennials preferred our updated look 200 percent more than before. We hope you, too, will find the updated packaging fresh and appealing. And, of course, it's still the same PERDUE® quality fresh, tender chicken.
In 2020, our company will celebrate our Centennial. Just as with our new packaging, we will continue to evolve to meet changing consumer expectations while staying true to our brand promise of quality.
*Federal regulations prohibit the use of hormones and steroids in poultry.