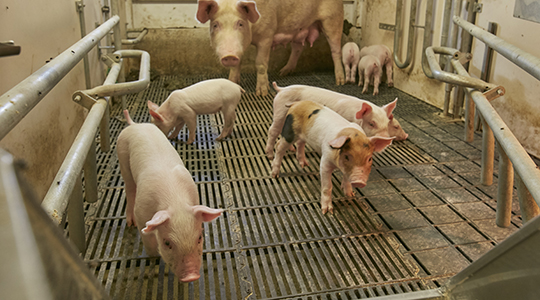 Setting a Holiday Table That Supports Humane Farm Practices
Coleman Pork is 100% Crate Free and American Humane Certified
December 16, 2018
By Bart Vittori, Vice President and General Manager of Pork for Coleman Natural Foods
Just before the holiday season, I was in Washington, D.C., representing Perdue's Coleman Natural pork business. I was there along with representatives of American Humane, farmers and food business leaders, to take part in a Congressional briefing on "The Humane Table." Hosted by the Congressional Humane Bond Caucus, the event gave us an opportunity to outline advances in the raising of animals for food, and to call upon the American public to support demonstrably humane farming practices.
Whether it's a Christmas ham or a traditional pork-and-sauerkraut dinner to welcome the New Year, Coleman Natural believes everyone should have access to quality, crate-free, no-antibiotics-ever pork that comes from pigs raised to higher welfare standards.
Of course, the overwhelming majority of farmers raising animals do so responsibly. They care about animals. And, as animal agriculture groups point out, the animals are the farmer's livelihood; it is in the farmer's best interest to ensure animals are well-cared for throughout raising.
But, when given the choice, a growing number of consumers are asking for higher standards, transparency and verification. In the most recent poll conducted by American Humane, nine in ten Americans said they were "very concerned" about farm animal welfare. More than three-quarters stated they were very willing to pay more for humanely raised eggs, meat and dairy products. Consumers show their concern for farm animal welfare by choosing those brands that promote verifiable welfare standards that go beyond the basics of food and shelter.
Coleman Natural has been around since 1875, carrying on a heritage of higher welfare practices. We believe in doing what is right for the animals, which isn't always the easy way. I was proud to be able to share with the Congressional Humane Bond Caucus the fact that Coleman Natural is the first national retail pork producer to fully implement a crate-free hog environment – both gestation and farrowing crate-free – verified by a third-party.
As with the other companies at that briefing, we are also American Humane Certified, which provides further assurance of third-party audits and greater transparency. With progressive welfare practices at every step, American Humane Certification is another way we are helping to ensure a higher quality of life for more than 300,000 pigs and 13,000 sows raised for Coleman Natural each year.
Learn more how higher standards for Coleman Natural Hogs and all Perdue brands