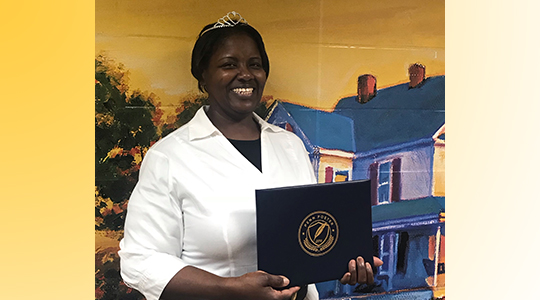 Perdue Helps Associate Achieve Life-long Dream of High School Diploma
We want to create opportunities for our associates to grow, professionally and personally
December 6, 2018
By Jeff Stall, Director of Operations, Perdue-Lewiston
As the Director of Operations at our Lewiston, North Carolina, harvest plant, I have reasons every day to take pride in our teams and individual associates. They produce safe, high quality food while working safely. When faced with a challenge, they come together to keep our commitment to high levels of customer service, and they bring that same teamwork to giving back to the community.
I also get to see individuals progress; the majority of our front-line supervisors are promoted from within.
Recently, I was honored to share in a dream come true for one of our associates. At age 48, Lisa Bullock graduated from high school. It was a long-awaited accomplishment made possible through her work here at Perdue. 
Lisa is the first Perdue associate to earn a diploma through the company's partnership with the Penn Foster Online High School Diploma Program. Participants can receive a high school diploma through an accredited online curriculum.
Lisa regretted never finishing high school, but was always determined that someday, she would find a way. As she told us, "I've always wanted it; I had so many people telling me I couldn't do and would never accomplish anything. I had this yearning inside of me to grow and I wanted to do whatever it took to begin growing."
"Teamwork" is one of our company's core values and includes the phrase: "We make each other successful." That success extends beyond workplace measures of success. We want to create opportunities for our associates to grow, professionally and personally.
Lisa is a great example of this. She has been with Perdue since 2015, working on our breast deboning line. She's also a mentor to her fellow associates Today, she's also enrolled at Edgecombe Community College in nearby Tarboro, working toward a bachelor's degree in business management.
Earning her high school diploma through the free online course offered by Perdue was a big step toward Lisa's future. "I needed my diploma and made sure that I took advantage of this program with Perdue," said Lisa. "I want to use my degree to better myself and other and help in making people understand what Perdue has done for me. There are so many opportunities here. Now, it's time for growth with Perdue and I can't wait.
We can't to see what Lisa accomplishes, but we are proud to be part of helping her realize her dreams. In 2019, we plan to roll out the free high school online course to all eligible associates across the company. I'm sure there are many more "Lisas" waiting to pursue their delayed dreams.